BlackCat Superyachts is proud to introduce the BlackCat 30 metre design. This will be the third model of the groundbreaking BlackCat range since the high-performance luxury superyacht catamarans brand was launched in 2016 by champion Australian yachtsman Mitch Booth together with Malcolm McKeon, one of the world's most successful superyacht designers.

The 30.4 metre (100ft) design has been created following many requests from customers from all over the world during the last couple of years for a catamaran this size and it's the latest addition to the portfolio of the next generation of sleek, state-of-the-art and high-performance multihull superyachts. BlackCat's impressive 50 metre model -and the largest single structure carbon fibre yacht in the world- was the first design introduced 3 years ago and it was followed by a more compact 35m model 10 months later.

The advantages of fast and comfortable sailing on a multihull, capable of cruising at 20 knots and reaching maximum speeds of 32 knots, with a low heel angle and a stable platform, make the BlackCat 30 an appealing alternative to a 40 metre monohull. To accommodate client's wishes, each design can be tailor-made right down to the smallest detail.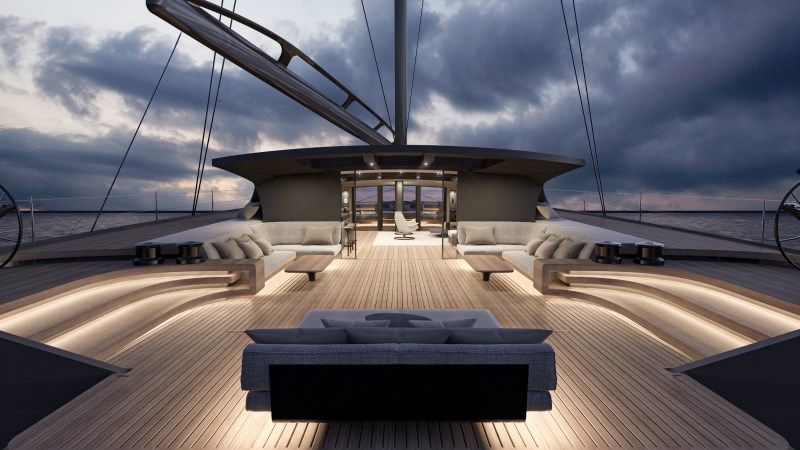 "The cruising catamaran market is the largest growth sector in midsize yachts today. We believe this trend will continue and eventually will become common throughout the superyacht sailing scene. The large volume and stable platform a BlackCat multihull provides is the logical solution for comfortable cruising", said Mitch Booth.

The BlackCat range of superyachts are at the cutting edge of cruising performance and due to the light weight carbon fibre construction, the yachts are able to sail or motor very efficiently, minimizing emissions and, in some cases, eliminating them completely.

BlackCat has recently joined forces with McConaghy Boats, who specialise in midsize carbon fibre cruising multihulls. This is the latest addition to the existing exclusive alliance formed by a selection of the industry's leading suppliers, such as North Technology Group and m2atelier, that reinforces the benchmark already established by BlackCat Superyachts in the large luxury cruising catamaran market.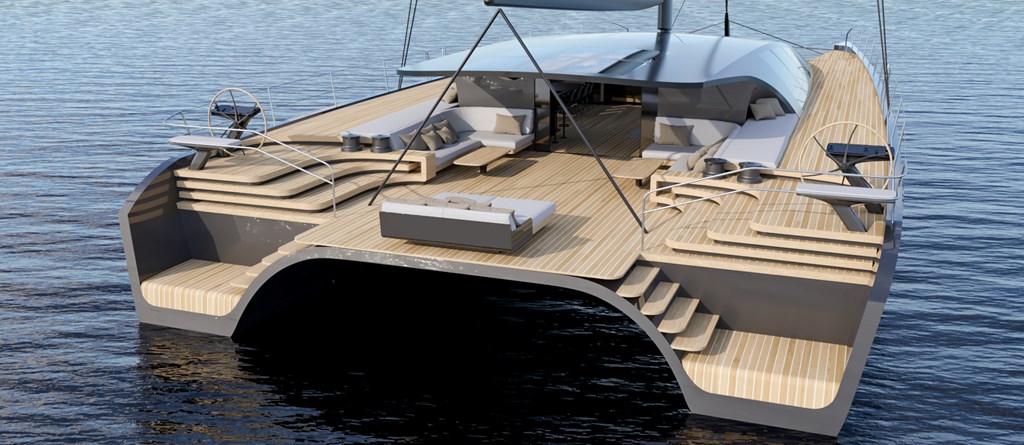 "We are delighted to have been identified by BlackCat Superyachts as the builder of choice for the BlackCat 30 and we look forward to adding our expertise to this elite collaboration. The progressive design by the MMYD studio sees a multihull of this size completely reimagined and we're extremely excited to commence construction. We are totally confident in our ability to build a robust structure of this size and description, and we have done so in the past as is evidenced in yachts like 42.5m Adastra", said James Kinloch, Sales & Marketing Director at McConaghy.

The BlackCat 30 has the same beautiful lines as the larger models and it features a spectacular interior design by m2atelier. It provides accommodation in 6 cabins for up to 8 guests and 4 crew with a very open and spacious feel. The main deck salon is on a single level and is big enough to cater for large dinner parties and entertainment.

"We are very proud to be part of this extraordinary team in such a unique project. We try to integrate and connect the interior design with the lines, characteristics and performances of the exterior design in order to achieve a continuous atmosphere and energy. Contemporary, lightness, comfort and luxury blend together in these one-of-a-kind spaces that any superyacht owner expects to see. Technology and craftsmanship are balanced in every aspect of the design to create exceptional spaces", said Marijana Radovic and Marco Bonelli, BlackCat interior designers from m2atelier.