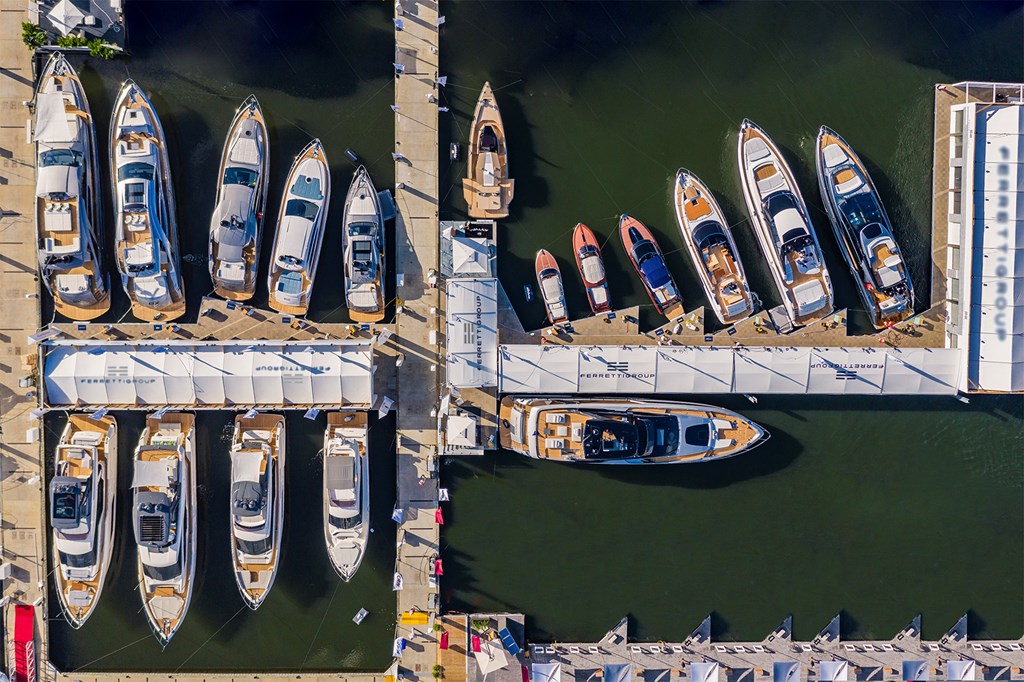 Forlì, October 30, 2019 – Ferretti Group celebrates the 60th edition of the Fort Lauderdale International Boat Show with a fleet of 16 boats including 2 premieres for the American market, and many new projects and novelties that captured the attention of visitors and professionals.
The following two yachts made their premieres: – Ferretti Yachts 720, an experience of luxury, comfort and well-being never seen before, with dynamic and harmonious lines, now distinctive traits of the Ferretti Yachts fleet – 48 Wallytender, with an unmistakable design, whose layout is that which has characterized Wally since its entry into the world of motor yachting in 2001: spaces on deck, generous interior volumes and special technical solutions that enhance the pleasure of cruising.
During the annual media meeting, Stefano de Vivo, Sales Director, illustrated the Group's successes at the end of the European season of boat shows and summer events. In the first nine months of 2019, Ferretti Group collected orders for over 465 million euro, an increase of 18% compared to the first nine months of 2018, thanks also to the launch of five new models under the Riva, Pershing, Ferretti Yachts and Custom Line brands and to the relaunch of the Wally brand.
The media meeting was also the occasion to present new projects for the Riva, Pershing, CRN and Wally brands and the yachts currently under construction. In particular, the new TØ Project by Pershing has been unveiled, with which the brand aims to redefine the boundaries of the yacht segment between 25 and 40 metres. Only Pershing could accept this challenge that will see the debut of a new product range, flanked by the Generation X, dedicated to the pleasure of the sea, without neglecting technology, high-performance and the unique style of Fulvio De Simoni's pencil. Among the vessels presented in preview is the Riva 130′ flybridge, a project realized with the historical collaboration of Officina Italiana Design and the CRN projects: – M/Y 137 62 meters of Nuvolari Lenard – The 138, 62 metres, built in collaboration with Omega Architects for the exteriors and Pulina for the interiors – CRN 139 70 meters, curated by Vallicelli Design for exteriors & Nuvolari Lenard for interiors – CRN 141 59,90 meters by Nuvolari Lenard.
Then the new Custom Line: Custom Line 140′, the third of the brand's planing line designed by Francesco Paszkowski Design, Navetta 30 and Navetta 48, in collaboration with the architect Filippo Salvetti for the exterior design and Citterio-Viel studio for the interiors. Other great previews include the highly anticipated Wally 101 – the first project that marks Ferretti Group's debut in the sailing sector – and the 165 Wallypower, the result of two of the most brilliant creative minds in the nautical world: Luca Bassani and Espen Øino.
The meeting also saw the presentation of the restyling of Ferretti Yachts 920 PURE, which will present a completely different style of the interiors and will arrive on the American market between February and March 2020.