---
A real record-breaker. Completed in just under two and a half years, this 80m boasts an array of design and engineering solutions that put Columbus up among the big superyacht builders. With a little help from an exceptional design team, of course.
Columbus Yachts' new flagship Dragon is hard yacht to do justice to on paper. Not so much when it comes to her dimensions – 80 metres in length and 13 in the beam, with a gross tonnage just shy of 2,300 – but the complexity of what can only be described as the recording-breaking and very challenging project that produced her. Let us just start with the fact that she was delivered in a mere 33 months. That is one very tight deadline, but it was a condition imposed by her owner, who wanted a majestically beautiful yacht that could go anywhere and which he could take delivery of in the shortest possible time. While it is generally true that more haste means less speed, there are always honourable exceptions to that rule and Dragon is one, thanks to the skills of Sergio Cutolo and his Hydrotec integrated design studio which tackled not just the yacht design but also the naval architecture and engineering side of the Dragon project. This fact alone slashed the timescale as Columbus was dealing with just one team. Cutolo in turn worked very closely with interior designer Francesco Guida, swiftly implementing all the changes required to incorporate the owner's wishes. The yard has never been one to be put off by a challenge either and also has a longstanding relationship with both designers.
The result: Columbus Dragon is a genuinely unique yacht clothed in refined, timeless lines. Spread over six decks, her design combines contemporary elements, classical proportions and peerless cleanness. A raked forward sheer hints at her vocation for long passage-making but her dimensions aside,  Dragon exudes pure elegance rather than striving for the wow effect.
But to return to those records for a moment, Dragon really does reveal a slew of remarkable features. Starting with her gigantic and spectacular beach club, which extends from 100 square metres to 200 sqm in the bat of an eye once all the fold-down platforms are opened. It includes relaxation, sunning and conversation areas with a bar, and, of course, a wellness area with sauna and hammam. Outdoor furnishings from the Tribù collection contrast nicely with the bright, fresh décor underscored by light teak on the walls and sole while three stunning backlit blue agate panels evoke the colours of the sea which also pop out in the soft furnishings which feature luxe Dedar fabrics. The beach club has its own independent existence, even though it is connected to the cockpit on the main deck by two sumptuous side staircases. Columbus Dragon also features a profusion of opening side hatches that bring her fortunate guests even closer to the sea. Indeed, it's very rare to see a yacht with so many apertures along her sides. An astonishing feat of engineering.
The interiors have a luxurious feel but are also simple and sober, producing a warm, sophisticated and rather modern atmosphere. Light wood panelling with satin-finished bronze and gold inserts beautifully complement the natural colours of the bespoke furnishings too. The interiors are accessed from the main deck with the main saloon the first port of call. Here guests are greeted by a classic Chelin as and armchairs. Dining-wise, a custom-made Giorgetti table with Roman Travertine top, maple edging and leather legs can seat 14 guests. The most striking feature is, however, the windows: six of them in all, four of which are five metres by two. this allows light to flood in, creating a bright, comfortable vibe. Four guest staterooms and a large panoramic VIP are further forward. Five of Dragon's six decks are connected by a round lift in the stairwell. The staircase doesn't attempt to dominate, but it does have a charming design and backlit treads which lend it an airy lightness.
The fourth deck is the owner's private deck and includes a 110 sqm suite with huge windows that reveal 180 degree views of the private foredeck where a helicopter can touch down when the need arises. The Roman Travertine marble bathroom has a sauna, separate closet and vanity table.
The bridge deck is, of course, home to the bridge and the captain's cabin, while forward there's a 50 sqm Tecnogym-equipped fitness area flanked by a beauty and massage zone. The sun deck is the most spectacular area of the boat, dominated by a seven-metre swimming pool with a spectacular water wall-type waterfall separating it from the hydromassage area. The result is a hugely exclusive area with breath-taking views. A sublimely luxe terrace that towers 12 metres above the sea.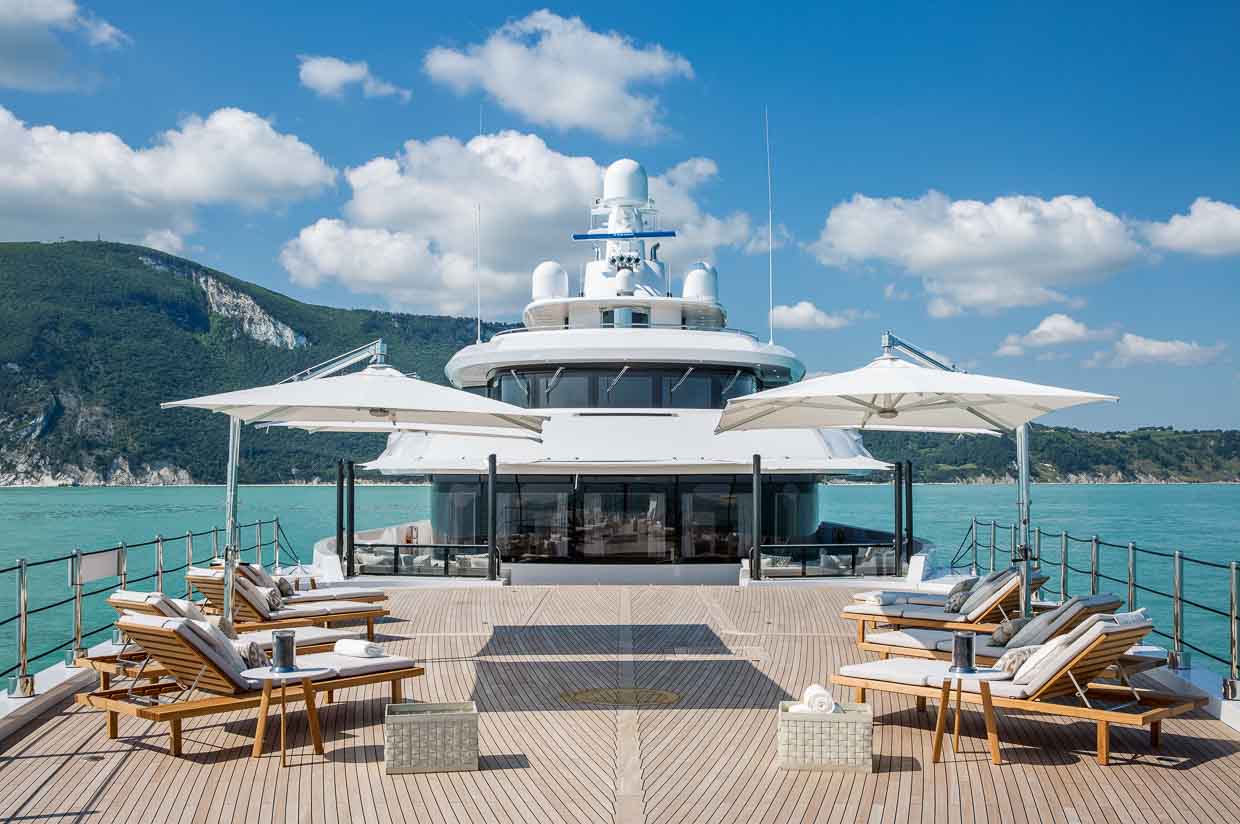 Yacht Design and Naval Architecture | Hydro Tec by Sergio Cutolo
Columbus Dragon has classic proportions with an elegant, timeless design and clean exteriors. Her profile is nicely balanced too despite her enormous volumes. She is the largest yacht we have ever designed. Her owner had very few stipulations but they were extremely specific: he wanted a raked bow, very flared sides and a taut line. The yacht was to be absolutely white and Mediterranean in vocation with an abundance of transparency, a large beach club, the swimming pool high up, and a generous number of al fresco spaces. This is a vessel with a lot of fold-out platforms that open onto the sea.
The one forward of the tender garage is 10 metres, the side ones aft are 7-8 metres and the stern one is enormous. One choice I think is interesting was moving the tender garage amidships which meant we had to make some logical architectural choices such as putting the lift and the guest embarkation platform near one another. This meant we ended up with 15 metres of the boat's side full of apertures. Columbus Dragon really is a boat with a lot of "holes" with advanced engineering solutions. Because we were doing the engineering, it also meant we could solve any issues immediately with the yard. Years ago, it wasn't even possible for a yacht to open up on the water like that. From an architectural perspective, there is great balance between the interior and exterior spaces too. The aft cockpit connected with the saloon has low sides so that occupants can see the sea from anywhere inside it and when seated. An 80m would tend to detach people more from the sea so aboard a yacht of that size, therefore it's important to come up with strategies like that.
On the main deck, the exterior cockpit sofa faces aft so that that area is never detached from nature underway either. The owner wanted the pool to be on the top deck and in an exclusive, private area. He also wanted it to be very large. So we carved out a space inside the antenna and satellite mast. The result is intimate and cocoon-like. To comply with the owner's request for a lot of transparency, we gave the living area enormous windows. The general plans gave us the idea for a gigantic saloon and we wanted to give it as much light as possible: in a 15-metre lengthwise stretch, we only put three window panes but two are five metres long and one is three-and-a-half metres. Their dimensions are impressive. This is where engineering and architecture meld into one. The master stateroom too is actually a genuine apartment in its own right. Its windows are just 50-60 cm from the floor, creating a sense of continuity with the deck outside, a large terrace for the owners' exclusive use.
Interior Design | Francesco Guida
The main theme was a modern take on the classic Provencal look. The challenge was to ensure that quite an exuberant style looked and felt simple. So we made the interiors more modern. We received some very precise input and worked very well with the owner's entourage in an unusually informal atmosphere. The colours were to be light and ton-sur-ton with a relaxed ambience throughout. So we opted for décor that linked all the various decks. The biggest challenge was doing it all in the very short time scale requested by the owner. It was a lot of work but with such clear ideas, we were able to move very fast. Our excellent relationship with HydroTec was pivotal: the interior and exterior designs basically took shape at the same time. We worked together on everything the owner wanted in terms of general plans to satisfy his requests and design requirements.
We made great use of the large windows in the living area: they bring a bright, lightness to the overall picture and emphasise the soft lighting throughout that gives the whole project a sense of great airiness. We also made full use of any apertures in the cabins: by turning the beds towards the sea, for instance. Large rugs are used throughout the entire yacht and were bespoke-made for every space using ancient techniques and to our designs (the yacht was presented to the public at the Monaco Yacht Show without them). Dragon is very homogenous – there are no wow effects. Aside from the beach area which has three backlit blue agate panels that inject real life into the space. The bulkheads are matt lacquered to add to the simplicity of the décor which uses a small selection of carefully selected materials: oak, Travertine marble, and brushed bronze and gold edging. All the furnishings were bespoke-designed apart from a few pieces such as the Giorgetti dining table, two Frau chairs in the hair styling area and the Tribù outdoor furnishings. This lent the project, simple though it was, greater exclusivity. The fabrics are by Dedar. Columbus Dragon is my most important achievement. An excellent starting point, an opportunity that has us hoping we can continue on down this path.
The Shipyard representative | Francesco Carbone, General Manager
The owner was already known to the yard. He arrived at the right moment because we had already started building the hull on spec and we had no problem adapting the project to the owner's tastes. In terms of the design we suggested people we knew would be capable of interpreting the owner's wishes very successfully, and the client followed our advice. The owner wanted a big yacht and he wanted it fast. On average you have to wait four years for a boat this size but he didn't want to do that. That was the make or break stipulation that got the contract signed. His other wishes were more or less aesthetic and functional: he wanted an owner's deck, a helicopter landing pad, Provencal-style interiors and the tenders kept out of sight.
Building a boat of these dimensions in just over two years was a real challenge. A record we achieved in part thanks to our collaboration with the integrated architecture studio Hydro Tec in which the exterior designer, naval architect and engineer are all one and the same. Then we built up a harmonious relationship with the interior designer and with the owner's entire entourage. The most complex thing was managing the production phase. To keep that as short as possible we decided to build the hull and superstructure at the same time and then put the two together. It is an idea we want to continue to use. It was a huge opportunity for the yard because there were plenty of challenges involved: lots of fold-out platforms, big heavy windows (each one weighed 200 kg). So we had to really stretch ourselves in terms of investment and find the right suppliers who were used to working on cruise and commercial vessels. They are part of Palumbo Yachts portfolio of contacts. I think one of Columbus Dragon's strong points is the impression of solidity and construction quality you get the minute you step aboard. She is our ambassador. We have demonstrated that it is now possible to build a large yacht in a short time and that puts us into a whole new dimension. Having already proved it on the ground, so to speak, we can take on the responsibility of delivering yachts in very tight times. That is a risk that not everyone is ready to take. I think that we have launched ourselves into a new era and have joined the ranks of the big yacht builders in the process. We will be continuing to increase the size of our craft. We won't venture into the gigantic lengths you see in Northern Europe, but I think it will be easy for us to get to over 80 metres. Columbus Dragon isn't just a launch pad but an across-the-board leg-up for all our output.