By Bianca Ascenti | Ph. by Eva-Stina Kjellman
www.nautorswan.com
---
A 24m mini maxi with clean, severe lines as her trademark. A pristine example of unwavering style and elegance. A blue water cruiser that will more than hold her own in competition from the pen of Nautor's go-to designer, German Frers.
'Back to the future' is one way of summing up the design and production philosophy behind Kinina, the second 78' from Nautor's new Swan Line and heir to an enduring bloodline that did so much to turn the Leonardo Ferragamo-owned Finnish yard into a yachting legend. The Swan 78's length was, in fact, a very deliberate choice. Thanks to masterful work on its volumes and proportions by designer German Frers and Swan Yachts Product Line Leader, Vanni Galgani, it is an impressive mini maxi with the space and liveability of a 90'. On the one hand, it complies with EC 24 requirements, avoiding complex and costly bureaucracy and on the other, guarantees long, comfortable cruises for family and friends even with short-handed crews. Compared to Nautor's previous 80' and 82 models, the 78' is broader in the beam and more powerful. Its modern lines hug a flared stern above the waterline which converts to a beach platform and can house tender and toys. It also boasts twin rudders and a sporty hull form that helped it to first place in the ORC 0 category at the 2019 Giraglia St Tropez-Monaco. All of which point to the Argentinean designer's desire to incorporate contemporary styling cues and solutions developed over the course of his lengthy career and tested out on the water by the Pietersaari Swans over three decades of cruising the world's seas and competing in international regattas. The hull, formed on a female mould, is glass fibre with carbon-fibre reinforcements while the deck and structures are entirely in carbon-fibre. Lamination is full carbon-fibre epoxy sandwich with Corecell foam core. The fixed keel draws 4m (with other options available). Taller topsides are the only price paid for normally unthinkable volumes for a yacht of this size in addition to peerless stability in all weather and sea conditions.
Kinina is a fast, balanced yacht that covers more sea in less time with very little stress on either rigging or gear. She is, in fact, more stable and better balanced both at anchor and underway. Her hull sections have a tapered entrance and a broader, more powerful aft section. They are designed to retain their symmetry at different heeling angles to achieve the optimal balance between performance and sea kindliness. It should come as no surprise that German Frers took his inspiration from ocean racer forms but has also honed them to deliver a hull that doesn't change its longitudinal trim on the heel. The optimal heel angle is between 18° and 20°. As the heel angle increases, the geometry in the water alters to adapt to the new position. The windward rudder lifts while the leeward one dips progressively, simultaneously becoming more perpendicular and more efficient. The deck plan is likewise a masterpiece of clean, uncluttered ergonomics, thanks to the fact that all the sail controls are clustered around the steering position and that the working area is separate from the living area amidships which is covered by a large bimini and equipped with two tables. The overall interior layout sees the saloon and engine room amidships for optimal weight distribution and there is also a double VIP cabin and two twin guests. Owners also have a choice of putting the master suite forward or aft.
Kinina's owner chose the Owner Forward option. The result is a cabin 4.5m long with a large island bed, closets and a head with separate shower. As she has a semi-raised saloon, Kinina also treats her guests to extraordinary sweeping views from her 6m-wide saloon, thanks to the coachroof design and large windows that draw spectacular amounts of natural light into the interior. She has a typically Swan Nordic feel as a result of hand-rubbed satin-finish quarter-cut oak Swan and the soft, light colours chosen by the owner. Her teak and oak flooring is a sophisticated new addition that adds both refinement and movement to the interior. Ergonomically speaking, Kinina is an exceptional example of maritime culture at its best: no sharp angles, excellently distributed grab rails, beautifully designed spaces which feel both welcoming and secure, generous headroom, broad walkways, harmonious flows, superb noise and vibration damping… Designed by sailors for sailors who like to eat up the nautical miles with understated determination, this Swan instantly won the heart of the market and applause from the yachting media alike. Because Swans are born, not made.
Exterior Designer | Vanni Galgani, Product Line Leader Swan Yachts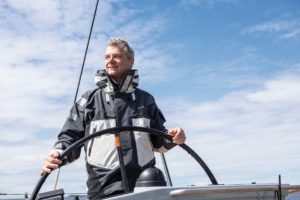 Kinina is a family cruiser with the typical volumes of a 90'. She's very spacious but, like all Swans, also high performance. The hull lines are more modern than in the past: a broader stern above the waterline, twin rudders and the keel design make the boat faster, safer and easier to control and thus more comfortable at sea. Optionals include a retractable telescopic keel, a deep fixed keel and a medium-draught fixed keel which have the same stability, rudder configuration and standard sail plan.
The hull sections were designed to retain their symmetry at different heel angles with an optimal balance between performance and sea conditions. Her consistently wide stern section aids stability and affords superb comfort. The mix of these different qualities delivers maximum performance in extreme safety, all wrapped up in a package of rare beauty and elegance. We also worked very closely with Maestro Frers on the interiors and even made a 1:1 scale model to check the ergonomics and composition of the spaces. But then walking through mock-ups is all part of the Swan experience! Many of the furnishings are sandwich with wooden laminate finishes, and the joinery units are 3D modelled and CNC-milled to guarantee perfect alignment.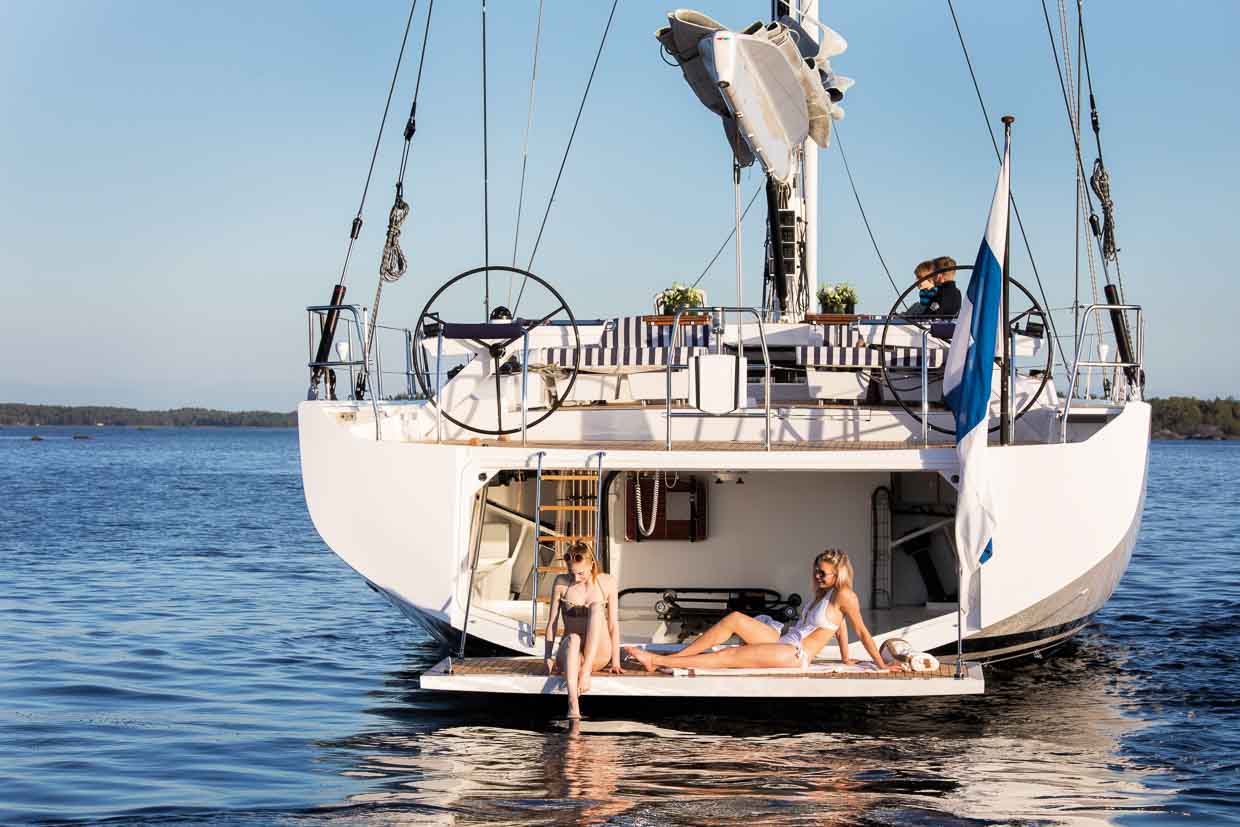 Interior Designer | Heini Gustafsson, Senior Designer, Interior and Styling
The owner, an expert sailor, had a very clear idea of what he wanted: a boat with a large saloon, two guest cabins aft and the master forward (Kinina is the OF – Owner Forward version), capable of long distance sailing and also very comfortable. With regard to styling, I took a practical approach that resulted in a sober look with simple, easy to use, natural materials. More specifically, we opted for hard-wearing, high performance fabrics and leathers that were, most importantly of all, easy to clean. Given that she is a blue water yacht designed for long distance cruising, Kinina offers large social areas that are both luxurious and safe. The stern is dedicated to the crew area and the two twin guest cabins, while the bow is dedicated to the full-beam master suite (with desk, bathroom, closets and large island bed) and the VIP cabin. The main joinery wood is quarter-cut European oak with a hand-rubbed satin finish. It has a lovely straight vertical grain that creates typically clean, understated Swan aesthetic. The beauty of oak is that it looks wonderful when paired with different materials and colours. The laminate wood finishes on the furnishings also work as robust grab points underway, while folding chairs can be securely affixed to the floor at sea. The coffee table top in the saloon rotates to reveal poufs and a tray on the other side. Kinina's owner opted for a classic colour palette of soft, light hues to highlight the colour and elegance of the wood. The floor is teak with light oak strips: this is a new combination for us and we loved it because it is innovative but never invasive. All the onboard furnishings are fixed and designed and built by Nautor. The bathroom and kitchen tops are made from Corian with Hans Grohe fittings, the dining chairs are by Manutti. Ultraleather Brisa is used for the handrail and table details, while Sunbrella fabrics were applied to the upholstery, sofas and other seating. The downlights are by John Cullen, bed linen by Pratesi and white goods by Miele.
The Shipyard | Giovanni Pomati, CEO Nautor
The Swan 78 is the result of our idea of differentiating our product to meet the needs of our owners and underpins the brand strategy of dividing the range into three product lines: Club Swan Yachts for racing owners and Swan Yachts and Maxi Swan Division for more cruiser-oriented souls. After carefully analysing the market, we came to the conclusion we should develop a different design that combined the traditional performance of a Swan with modern lines that deliver comfort and very ample volumes. We are targeting owners for whom performance, quality and technology, but also comfort and style, are fundamental factors in choosing a boat. The aim is to offer the right craft to our clients who want to go up in size and gradually get into the maxi world.
The Swan 78 gives the opportunity to approach the superyacht segment with a 24m boat that offers some of the typical features of custom and semi-customs: the space and volumes of larger yachts and the opportunity to personalise their boat in terms of layout (with the possibility of having the master cabin forward or aft) and interior design by choosing woods and fabrics. Plus, as is the case with all Swans, the 78 had to be a powerhouse of comfort, safety and performance to sail all the world's seas while simultaneously being able give its owner a fun time in competition. The four examples launched so far – and the fifth in build – prove that we were right on the money in that regard! Don't forget that like all Swans, the 78' got a thorough 4,000 nm shakedown sailing from the Baltic to the Mediterranean… Currently our biggest markets are Northern Europe and the Mediterranean but we are returning to the US with our smaller boats quite confident that our American owners will want to grow with us. The same applies to Asia where interest in boats is starting to move, particularly with the new generations and the upgrading of dedicated facilities.