MEGAYACHTS | OCEAN ALEXANDER 90R
By Paola Bertelli | Ph. by Marc Montocchio (exteriors), John Lair (interiors)
www.oceanalexander.com
---
The large windows make it plain: light plays a starring role aboard. Evan Marshall has designed a yacht with generous volumes and a modern concept. A clever mix of finishes showcases the yard's expertise with a variety of materials.
A big, bright penthouse on the sea. That is exactly what the saloon aboard the Ocean Alexander 90R feels like, thanks to extra-long, extra-large windows that draw in natural light and cool contemporary furnishings that guarantee the sense of airy brightness now de rigeur aboard.
This 27m semi-custom's powerfully muscular lines were developed to wrap large volumes both interior and exterior. Her plumb bow is not just one of the signatures of Ocean Alexander's new Revolution series but also improves space and liveability, which are invaluable additions to life at sea.
In the interiors, whites, beiges and greys are broken up by splashes of black to add character. As designer Evan K. Marshall, who has worked with Ocean Alexander for many years and penned the 90R's interiors as well as exteriors, is keen to point out, the freestanding furnishings were not designed with vertical sides: "We angled all of the bases, creating a lighter, more dynamic feel to every piece of furniture". All are, of course, beautifully crafted and finished. Oak is the main wood and was given a 60% satin finish. It is paired with ebony which, has a 100% high gloss finish, and steel strips. The floors are a clever mix of wood and Cambria stonework.
The galley and cockpit both have large sliding doors that open into the saloon. Once said doors are opened, however, they turn the whole area into a single open plan space that feels wonderfully convivial and informal. Forward, the full-beam master suite has exceptionally large picture windows too.
Classic spotlights have been replaced aboard by a mix of direct and indirect LED strips set into the ceiling. These add an architectural character to the ceilings and provide greater flexibility in terms of how each space is illuminated. These strip lights are complemented by dramatic sconce lights and recessed pelmet lighting throughout the interior.
The beach club is similarly spectacular, with skylights over the wet bar and sofas. Sliding glass doors open onto the water-skimming platform underscoring the constant interaction between interior and exterior that is the leitmotif for the entire design.
The upper deck lounge is as large as the main saloon and is in direct communication with the bridge, a nod to the American approach in which owners tend to share the cruise experience with their crew. Ocean Alexander actually already leads the US market but is now becoming increasingly interested in extending its influence to the international markets. "The new 90R designed by Evan K Marshall combines the obsession with quality that has distinguished Ocean Alexander over the past 40 years with the best in contemporary interior design; it is rich in innovative and attractive concepts", explains Giampaolo Murzi, who distributes Ocean Alexander in Europe, Turkey and Russia. "From a competitive point of view, this boat will also be successful on the European market because clients are becoming more and more demanding, and are perfectly capable of understanding and distinguishing, merely by reading the standard specs, that a shipyard makes you pay more because it gives you so much more". For the debut of this particular 27m on this side of the pond, Ocean Alexander has given the 90R a more European-style layout: the galley is separated from the saloon by a bulkhead and has a side door, while a hydromassage tub has been added on the upper deck. The floors on the main deck are teak too and the master suite has one large bathroom.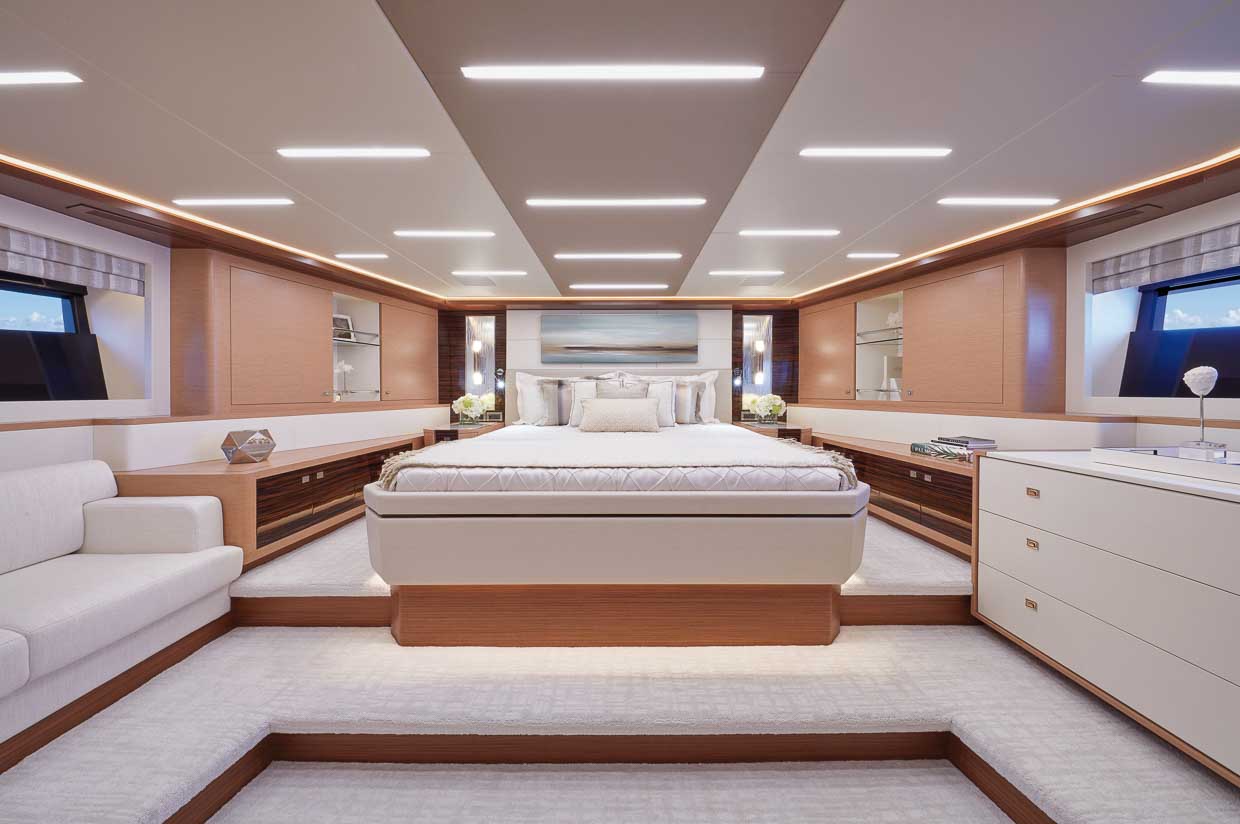 Yacht Designer | Evan K. Marshall
With regard to the exterior design development of the 90R, I wrote to Ocean Alexander  in the winter of 2017 expressing my opinion that we needed to depart from their current styling with this new project and that we should create something innovative and ground-breaking. Richard Allender, the president of Ocean Alexander Yachts, was in full agreement with this approach and, on that basis, I started sketching out some styling concepts and eventually we arrived at the design which has now been built.
The main feature of the 90R exterior design is how we have been able to incorporate a large volume into a very stylish, sleek profile. This was achieved, in large part, by the design of the sweeping fashion board which creates accelerated visual movement, giving the yacht a very dynamic profile.
In terms of the elements that make this yacht unique, I would have to say the way her sweeping fashion board blends into the upper deck hard top and dynamic window shapes. This is a yacht with volumes. I particularly like the sky lounge which is absolutely oversized for a craft of this category. I am especially fond of the more European version with teak flooring, a finish that lends the yacht great character.
Interior Designer | Evan K. Marshall
We wanted to bring a lot of light into this 27m and to create a seamless connection between the interiors and exteriors. I have been sailing since I was a child and remember boats in the 1970s all too well: they were dark with tiny windows and you always felt you were camping. Now owners want the same lifestyle as they have in their own homes so we worked a lot on light, thanks to the enormous windows that today's technology allows you to put into yachts. The interiors are contemporary and comfortable. We used relaxing finishes – not so much high glossing, for example. We also focused on social areas which allow owners to enjoy life on the water to the fullest with family and friends.
This is a solid, practical yacht that is very seaworthy and absolutely reflects the yard's reputation: aside from its styling and design, it is first and foremost a craft that has to be able to tackle even tough weather conditions. The furnishings and accessories were designed by us for the most part too. They had to be separated from the outboard perimeter so as not to block the windows and, as a result, we had to come up with a freestanding "floating" furniture style. This new approach is especially evident in the main saloon with the floating wet bar and sideboard and the freestanding sofas, all of which maximise the views out of the full height windows in this space.
In the master stateroom, we applied the same approach with freestanding lounge chairs which can rotate 360° so you can sit facing out towards the glorious views of the sea or inboard, looking at the spacious stateroom. The freestanding desk-cum-vanity allows the large window on the starboard side to be free from a massive piece of furniture blocking most of it. We selected a combination of oak and ebony finishes for the bathrooms and the galley, as well as some lacquer with flooring in wood and Cambria Stone which guarantees extreme consistency.
Shipyard representative | Johnny Chueh, CEO of Ocean Alexander Ocean
Alexander's long history began 41 years ago. We have yards in Taiwan and Florida. In the former we build our larger yachts and our smaller ones in the latter. Around 90% of our output is for the American market and, to continue to grow, we focused on internationalising the brand. As our yachts are very American-oriented, we began developing new designs three years ago with Evan Marshall. The way people use their boats is very different: in the United States, they really clock up the miles. They go to Alaska, to the Bahamas, they stay out at sea for a month at a time. But that's not how it is in Europe. They are more conservative in America – style is important there but not as much as in Europe, where it's critical. Our aim is not to become a European brand – we want to hang on to our American DNA but we want to distil it in such a way that it will also go down well in Europe. Our strength is that we are bringing a different kind of product to the mix.
This 27m semicustom was developed with two different interior layouts and decors to satisfy owners with different tastes and lifestyles. But what doesn't change is the way we build the craft. Ocean Alexander is renowned for engineering that is very solid and focused on having back-up systems. The 90R is contemporary in style and has a huge amount of glass, as well as the safe, solid mentality of an explorer with a large range and lots of storage. It is important to us that even if you aren't covering great distances, you know that you have a boat that can do so. Today's owners are looking to boats that are solid… like SUVs. The interior and exterior spaces aboard this yard are beautifully interconnected and multifunctional. They are also significantly larger than is normally the case for a craft of this size. Essentially, this is a bigger boat in a smaller package.