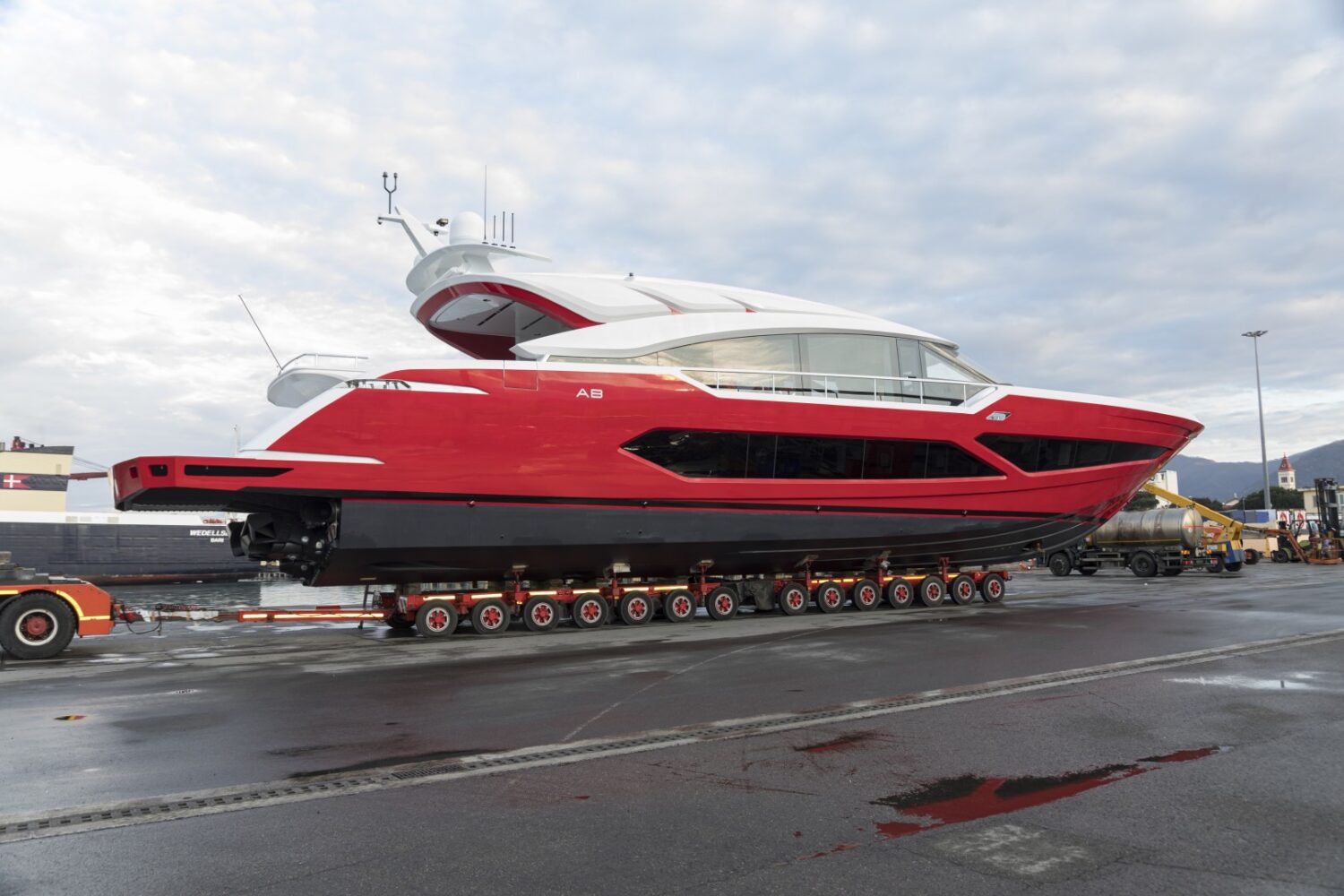 AB Yachts' quay in Viareggio is now elegantly showcasing nearly the entire AB Yachts range, with the units proudly berthed next to each other: soon-to-be delivered AB80 and AB100 and the AB120, currently undergoing final sea trials, have indeed just been joined by the latest yacht to hit the water, the AB100, hull no. 196.
These four units share the same DNA, characterised by sporty and sinuous lines, unlimited brightness, and smooth, free-flowing consistency between interiors and exteriors; innovative materials and cutting-edge construction techniques; breathtaking speed and unmatched performances in terms of manoeuvrability, lack of vibrations, minimum draught, maximum safety in all operating conditions, and an optimised fuel consumption/CO2 emissions efficiency also thanks to water-jet propulsion. However, each and every one of them is genuinely one in her kind in the way she interprets her Owner's unique lifestyle and makes the most of onboard space and liveability through original, exclusive solutions. The common goal is always to create emotions, but through a truly "bespoke" application of AB Yachts' skills and expertise.
This latest AB 100, hull no. 196, too, offers her guests the thrill of speeding beyond 50 knots almost without noticing it, enjoying maximum comfort and unmatched efficiency and experiencing the rush of pure adrenaline in total safety. She also features generous volumes capable of offering total relaxation surrounded by light and fully immersed in pristine nature. The extremely limited, 1.30-metre (4 ft.) draught means that this vessel can easily reach any destination, exploring even the most remote and secluded locations. And, obviously, she can do so much faster than others, since her litre-per-mile consumption is almost constant at any speed.
This new version has thus distilled the best features of the AB100 and confirmed this model as extremely versatile and easy to configure to perfectly reflect her Owner's distinctive style and taste – starting from the exterior colour palette, chosen by a dynamic and sophisticated Owner: an unconventional, bold red shade, like that of historical Formula 1 cars, with white and black to further highlight the yacht's elegant lines and profile. 
On the main deck, the floor-to-ceiling windows ensure a constant contact with the sea and a breathtaking 360° view. On this unit, however, it is the original open roof of the main saloon that, at the touch of a button, will offer the most magical moments and the emotion of dining under a sky full of stars, being caressed by the gentle sea breeze, or taking in the golden glow of sunset, always enjoying maximum privacy.
The impressive height of the interiors, the concealed sliding door connecting the aft cockpit and the saloon, and the extensive use of natural light, all contribute to creating, just like on all AB100, a seamless continuum with the exteriors.
The use of space is, conversely, very original in the aft area, thanks to a transformer integrated in the garage door, which magnifies available volumes, simplifies and speeds up the lowering of water toys (up to three considerably large units, stored crosswise in the garage), allows guests to easily and comfortably access the sea or creates a protected area where children can safely play in the waves.
At the bow – quite an unusual solution on such a sporty craft – a Jacuzzi has been flawlessly integrated in the yacht's profile and custom-designed to ensure unmatched comfort and privacy for the Owner and his family; an original system of awnings and permanent curtains, in turn, ensures the perfect mix of sunshine and shadow, so that guests can enjoy all outdoor areas to the fullest throughout the day, be they private or more convivial moments.
As is the case with every AB Yachts model, it goes without saying, both layout and interior décor can be customised to every Owner's individual needs and personal taste. On this unit in particular, the Owner has chosen a more convivial, informal and welcoming style. This AB100 can accommodate up to ten guests in four spacious cabins, while the crew, up to 4 people, has a dedicated area with 2 ensuite cabins with separate access.