CCN's 31-meter displacement MY Vanadis was officially presented last Thursday in the presence of her Owner. The yacht, built in light alloy, is the fourth model in the Shipyard's "Fuoriserie" fully-custom line.




The Vanadis, named after a goddess of Norse mythology, is the successful outcome of the cooperation between and among CCN, Dutch design firm Guido de Groot, who took care of both interior and exterior design, and Ginton Naval Architects, who were responsible for naval architecture. Technological solutions are by Siemens and Schottel. Just like the yacht's Owner, this is a truly "European" project, in which Italian manufacture, Dutch design and engineering, and sophisticated German technology find their highest expression, endowing the Vanadis with a harmonious architecture, classic and timeless exterior lines, and cuttingedge technological solutions, with a strong focus on environmental friendliness and efficiency.




The yacht is indeed equipped with two Schottel STP 150 FP azimuth thrusters driven by a hybrid system which includes both traditional diesel engines and an electric engine supplied by generators or batteries, ensuring low consumption and limited environmental impact, as well as increased onboard comfort thanks to reduced noise and vibrations both at anchor and when cruising.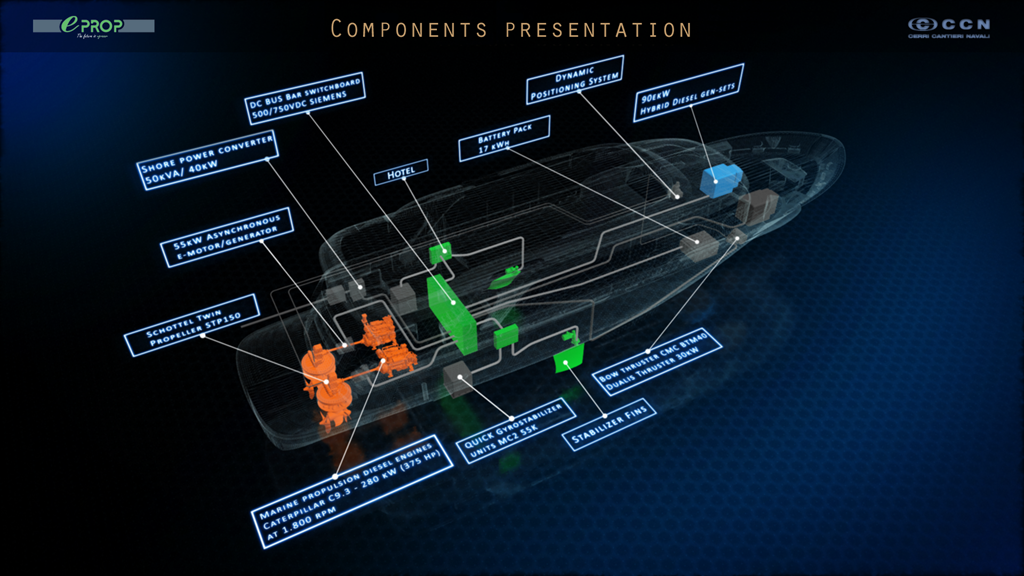 Two CAT C9.3 B engines push the yacht to a maximum speed of 12.5 knots, which drop to 8 knots when cruising in electric mode. The craft is fitted with a set of AKASOL lithium-ion batteries (175 kWh) which supply most of onboard utilities, allowing to remain at anchor at zero emissions for up to 17 consecutive hours and to cruise at limited speed for up to 120 minutes, depending on the power load. Moreover, the yacht can rely on both gyroscope- and fin- anti-rolling stabilizing systems, increasing safety and stability both during cruising and when at anchor.

The layout features a master cabin and 2 guest cabins on the lower deck, while the indoor areas of the main deck, behind the wheelhouse, include a spacious salon furnished with a large L-shaped sofa, a dining area, and an open galley. Outside, both aft and forward on the main deck, are two comfortable lounge areas.




A second pilot station can be found on the flybridge, which is entirely devoted to outdoor life, with sun loungers, a bar area, and a dining area.
The launch of MY Vanadis not only marks a new important achievement for CCN – confirming the Shipyard's versatility and great ambitions in terms of state-of-the-art technology on newgeneration yachts , but is also a significant step forward for the Italian boat builder towards more efficiency, lower consumptions, and increased environmental sustainability. MY Vanadis is indeed inaugurating the "E-Prop" line, i.e. CCN's new line of hybrid propulsion crafts.

"The Vanadis opens up a new era for CCN – says CCN's CEO Diego Michele Deprati – We want to be pioneers in promoting a cultural revolution that we deem essential to truly respect our planet. "Green Technology" is the way ahead our Shipyard has chosen for the future. The new "E-Prop" range has been born with a view to widening and deepening current research on innovative technological devices and solutions, with the final goal of safeguarding the Earth, which has now become an imperative".