The technical launch of the 50m/165' Hybrid Tankoa S502 Elettra is on schedule at the Genoa shipyard. Following final fit out and dock trials, the yacht will undergo intensive sea trials prior to delivery to her European owner, in time for the summer season. Based on a similar design to Vertige, the first in Tankoa's 50-metre series, S502 Elettra differs from her predecessor under four key aspects: -Project Elettra is powered with hybrid propulsion package.

-She will be a 5-cabin with a main deck owner's suite and four guest cabins on the lower deck.

-The galley is on the main deck, instead of lower deck.

-Her foredeck features a touch-and-go helipad.

Final work in progress

[[BODY:50]]

As of early April, the following procedures were fast approaching completion: 

•Final assembly of VIP guest cabin (starboard aft) with ceiling panels completed and ready for freestanding furniture installation. •Jacuzzi on fly deck has been fitted and mosaic tiles was being laid down.

• Installation of exterior ceiling panels on fly deck was underway. Installation of lighting and audio speakers installation will immediately follow.

•Laying of teak deck forward of the wheelhouse has been completed and installation of sofa for the dinette is following.

•Installation of the teak/stainless-steel floating stairwell connecting the upper deck and fly deck has been completed.

•Polished stainless-steel cleats and fairleads have been installed.

•Mast has been painted, antennas have been installed and wiring completed. The mast will be fitted on after the yacht has been removed from her completion shed.

•Alinement of drive shafts has completed and ready for propellers to be mounted. ELETTRA HYBRID SYSTEM The yacht is powered by twin MTU 8V4000M54 (895 kW) and two 300 kW electric motors fed by two 250 kW variable speed generators. In DEM mode (Diesel-Electric mode) the electric motors are fed by two variable-speed generators, allowing for speed up to 10.5 knots and a max. range of 4,900nm. This DEM mode offers considerable fuel savings and reduced noise levels. In Hybrid Mode, one of the two main engines shaft generates the needed electrical power to run the second electric motor for propulsion and hotel needs. At 12 knots, the yacht will have a cruising range of approx. 4,000 nm. In this mode, the two diesel generators are simply shuted down during navigation. In Traditional Mode, the yacht can sail at 16,5 knots using both main diesel engines for propulsion and a diesel generator feeding the hotel loads. In this case, the variable speed generators self-adjust their rotation speed to the required load.

[[BODY:50]]

In Full-Speed Mode, with both main engines and generators supplying power to the two electric motors and feeding the hotel loads, the yacht will reach a top speed in excess of 18 knots.




The interiors

The interior design is by Francesco Paszkowski Design in collaboration with Magherita Casprini and combines light and modern tones with an abundance of natural materials.




Elettra's lower deck will be equipped with a gym and beach club, two VIP cabins with king-size beds and two guest cabins with twin berths, plus crew quarters and service areas.

On main deck, the cockpit comes with an oversized sun bed, U-shaped sofa, coffee tables and bar. The interior offers a spacious saloon, dining room, galley, and superb master suite with office and lounge equipped with fold-down terrace to starboard and a large openable window to port.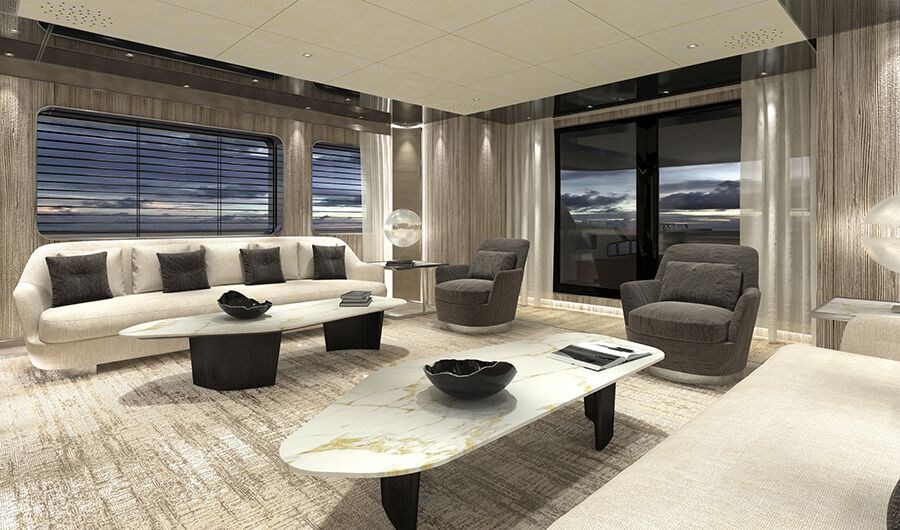 The upper deck has been designed around spacious entertainment areas for guest's relaxation, with a dining table and access to the comfortable sky lounge. The foredeck includes a solarium and open-air lounge, all designed to offer maximum privacy.

The fly deck provides ample spaces and comfort with sofas, sun-beds, up & down tables, bar and a generous Jacuzzi.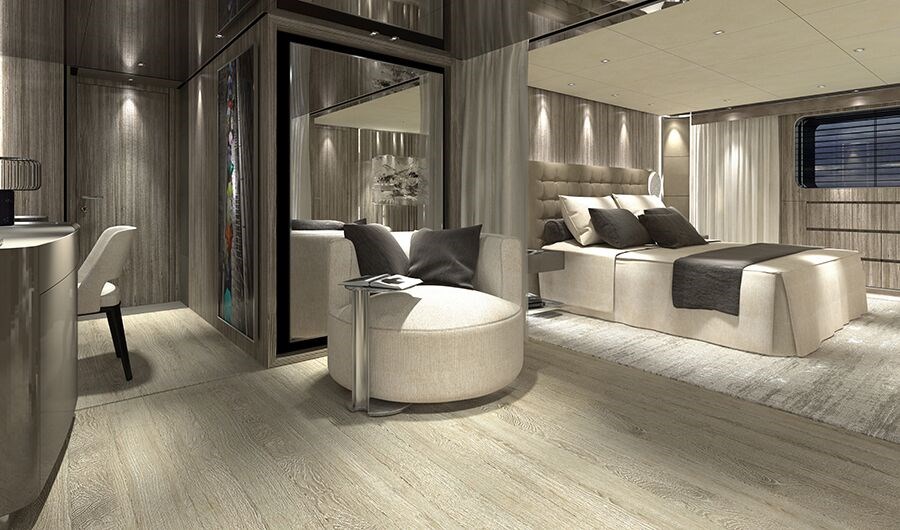 S502 ELETTRA – Specifications

Hull type: Displacement -Twin-Screw Motor Yacht

Classification: Lloyd's (MCA LY3)

Hull construction: Aluminium

Superstructure: Aluminium

Project engineer: Studio Francesco Rogantin & Tankoa Technical Office

Exterior Designer: Francesco Paszkowski Design

Interior Designer: F. Paszkowski & M. Casprini

Main dimensions

Length overall: 49.90 m / 163'8''

Maximum beam: 9.40 m / 30'10"

Draft: 2.21 m / 7'3" Displacement at full load: approx. 391 T

Gross Tonnage: 499 GT

Speed and range

Top speed at half load: 18 knots

Range at 12 knots: 4.000 nm

Fuel capacity: 57,300 l

Fresh water capacity: 16,200 l

Propulsion

Main engines: 2 x MTU 8V4000M54 2 x 895 kW