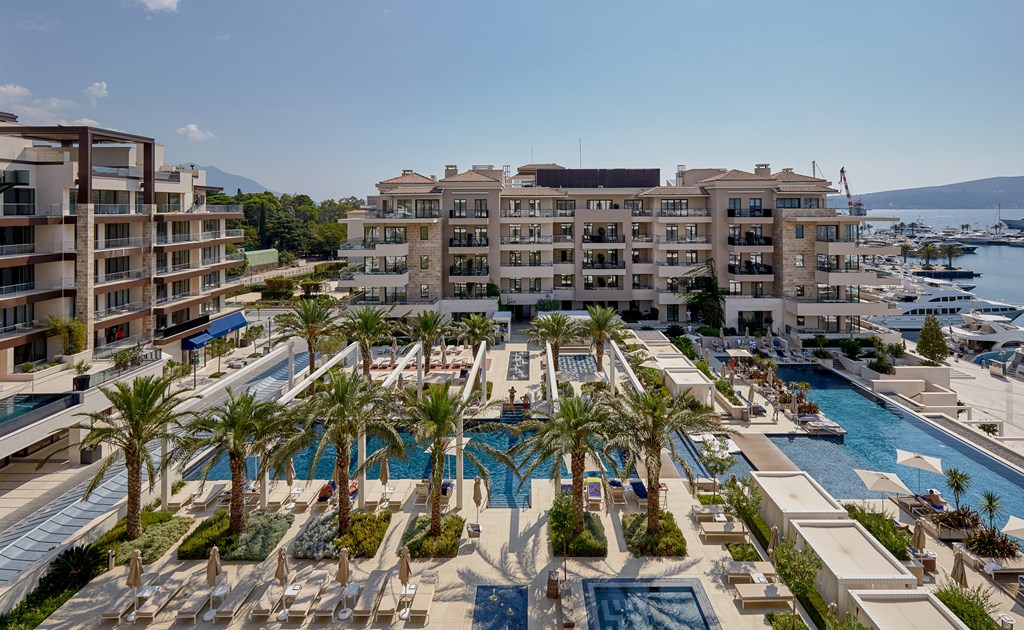 – Porto Montenegro won the European Property Award

– New business club is opened at Porto Montenegro

– The recently launched own helipad eased access to the Boka Bay and surroundings

– The village also gets the newest sports, music and entertainment venue

– The marina village is transforming into a year-round destination and business hub

– 500 million euro investment is planned over next 10 years

Porto Montenegro keeps growing even when the summer season is effectively over. The Mediterranean's leading luxury yacht homeport and marina village transforms into an all year round business cluster and strives to satisfy the customers' needs. After opening new offices, a couple of months ago, Porto Montenegro received another upgrade as part of the multi-year development strategy.

"We use this formal off-season to get better at every point," said Danilo Kalezic, Senior PR and Marketing Manager at Porto Montenegro. "Like we mentioned during the 2019 Monaco Yacht Show, we are working hard to implement the 500-million euro investment as efficiently as possible. We still feel there is room to develop, despite our marina and the project as a whole won a number of awards and are internationally recognized on the highest possible level".




Award to prove high class

Porto Montenegro has received the Five Star European Property Award in the Mixed-Use Development category for Montenegro. Competing against the best property and mixed-use developments across Europe, Porto Montenegro received recognition for its exceptionally high standards, comprehensive services and premium luxury offering alongside its commitment to sustainability.

The luxury development will have the privilege of marking its collateral with the prestigious European Property Awards ribbon, an internationally recognized mark of excellence. Alongside the latest addition to the premium waterfront property, Elena Residences, Porto Montenegro prepares itself for a new decade of luxury property development.

"Retail, dining and leisure facilities are intended to cater to high-end clientele for whom the Boka region serves as an ideal second home location and premium lifestyle hub, as well as the hot-off-the-press destination for real estate investment", comments Danilo Kalezic.

The awards are the largest world-renowned award programme in Europe, and are judged by an independent panel of over 80 industry experts focusing on design, quality, service, innovation, originality and sustainability.

What are in details the latest improvements ?




New business hub

The Arsenal Business Club Porto Montenegro is the new, affordable office hub, ideal for entrepreneurs and small teams looking for a functional base for their business operations within the Porto Montenegro village.

All office space comes in white box condition, allowing rental tenants to add their own touch, make the space their own through, and import their own furniture. Communal areas have a clean aesthetic with subtle vintage design references to the building's heritage. The working spaces are equipped with new flooring, doors, air conditioning, lighting, bathrooms, kitchen and lounge area, outdoor terrace and 14 office units spread over the ground and first floors, ranging from 13-34m2.

A 235m2 lower-ground studio benefits from its own terrace area as well as three separate meeting rooms or private offices. The external arrival experience has been enhanced with a new landscaped garden area and outdoor breakout space for informal meetings or lunch breaks for all tenants to use at their leisure.

The new office hub benefits from secure on-site parking with capacity for up to 50 cars, with direct access from the Adriatic Highway. The neatly turfed Arena sports field is located 50m from the building entrance, offering tenants access to a relaxing green park with Bay views. The village's newest sports, music and entertainment venue, the BlueRoom, is also adjacent to the office club providing tenants with a convenient hangout for after-work drinks, snooker, ping-pong, golf simulator, table football and other activities, as well as live sports screenings.

National helipad

Everything has become much more accessible in the UNESCO-protected Boka Bay and its beautiful surroundings, when Porto Montenegro launched the highly anticipated new helipad, open for flights within Montenegro. Homeowners, marina clients and guests of the Regent hotel can now reach the village from Montenegro's two international airports, as well as venturing to exciting local destinations with ease and efficiency, avoiding summer traffic and taking pleasure in the beauty of Montenegro from the air.

The heli service offers alternate access to the ski and mountain resorts of Zabljak and Kolašin in the north, as well as the sandy southern shores of the Ada Bojana riverside and Velika Plaza (Grand Beach).

Accommodating for single- and twin-engine helicopters weighing up to 4 tonnes with a maximum hold time of 15 minutes, the helipad is operational from sunrise to sunset. Located on the western side of the village between the Yacht Club and Adriatic Marinas corporate building, the pad is in walking distance from the heart of the Porto Montenegro lifestyle, retail and dining scene.