Innovative design, a variety of styles and inspirations, and spectacular dimensions: Ferretti Group shines bright at the showcase event in Monaco with a multi-faceted fleet of dazzling beauty that includes the two world premieres CRN M/Y RIO and Riva 130' Bellissima, plus Custom Line 140'. Also on show at the event are CRN M/Y CIAO, Custom Line Navetta 37 and Riva 110' Dolcevita.
"We come to Monaco more beautiful and solid than ever, or perhaps I should say as strong as steel, which is the main material used for the masterpieces built by our Super Yacht Yard in Ancona. Our investments in the large yachts segment are paying off handsomely and I'm pleased to announce the sale of two CRN yachts, one 85 metres in length and the other 70 metres," said Ferretti Group CEO Alberto Galassi. "We are the only yacht-building Group with a range spanning 8 to 90 metres and as a boat lover myself, I really do understand our owners' enthusiasm when they enter the Ferretti Group boutique. My own eyes light up too when I see our fleet."
The other main protagonist at the event is the Super Yacht Yard in Ancona, which has the production capacity and construction know-how to be regarded as the Mediterranean benchmark for international yachting. Covering almost 77 thousand square metres, the yard has 15 yachts under construction for the CRN, Riva, Pershing and Custom Line brands.
Two stand-out new projects are the 85-metre CRN M/Y 144 and the 70-metre CRN M/Y 145, both of which have already been sold. Also under construction are other incredible projects for the Riva, Pershing and Custom Line brands: Riva 54 Metri, Pershing 170 and Custom Line Navetta 50.
Another yacht the Group is taking to Monaco is the new 62-metre CRN M/Y RIO, the ultimate expression of the design knowhow and construction quality epitomised by the Group's Super Yacht Yard in Ancona. Developed and built by CRN in close collaboration with design and architecture studio Omega Architects, which created the exterior styling concept, and design firm Pulina Exclusive Interiors, which looked after the interior decoration, CRN M/Y RIO has an unequivocally dynamic and sporty personality expressed in the seamless balance between indoor and outdoor areas.
The other eagerly awaited models presented include Custom Line 140', the brand's largest yacht, which features a profoundly sporty aesthetic defined by the elegant and powerful silhouette and the highest standards of comfort for both owner and guests. Unveiled at the recent Cannes Yachting Festival, the yacht is already a commercial success.
Another stand-out is Riva 130' Bellissima, which lives up to her name by offering 40 metres of unrivalled beauty and style. In the brand's 180th anniversary year, the largest flybridge in the range enters the water, representing a magnificent fusion of fine design, naval engineering, expert craftsmanship and high technology. The first planing flybridge in the range to extend across three real decks, Riva 130' Bellissima is the brainchild of Mauro Micheli, founder with Sergio Beretta of Officina Italiana Design, the firm that has designed all Riva's yachts for the last 27 years, working in partnership with the Strategic Product Committee and the Ferretti Group Engineering Department.
Also revealed at the event, the first details of Wally's innovative wallywind130 and wallywind150 projects, which pay tribute to the Monaco-based brand's values and distinctive features: the huge speed potential of full-carbon hulls, the pared-down refinement of the styling, and elegant interiors that combine ultimate comfort with a contemporary aesthetic.
Ferretti Group has also announced the acquisition of two companies that are part of its supply chain: Masello Srl and Fratelli
Canalicchio SpA. Massello Srl, based in Fano, is a company with extensive experience in wooden furniture for yachts and has recently launched an innovative on-board assembly service. Fratelli Canalicchio SpA, based in Narni, is specialized in static exteriors and
automatic kinetic systems for yachts.
As of 2021, the combined revenues of the two companies will amount to approximately € 13 million. As a result of the integration with the Ferretti Group, the two companies are expected to generate sales of approximately € 30 million by 2025.
The two transactions, in line with the Group's strategy, are aimed at improving overall profitability and gaining even more control over the production and procurement phases.
"We have finalised these two transactions because the acquisition of control of a strategic supplier ensures stability and reliability, improves industrial performance and insourcing of expertise. We are confident that the upstream integration will allow us to express even more quality and optimise costs and time," said Alberto Galassi, CEO of Ferretti Group.
Thirteen luxury sector partners will work with Ferretti Group throughout the Show, starting with historical partner and luxury SUV segment leader Range Rover, which will offer customers and owners rides in the new line of Range Rovers, and continuing with Flexjet, the private aviation leader that will exhibit scale models of its planes, Culti and its intriguing essences, the stylish outdoor furniture of Ethimo, and Seabob, a consolidated partner showcasing the magnificent limited editions with custom livery created specifically for the Group's brands.
There's space for Italian excellence too, from fashion to food & beverage: Dolce&Gabbana designs the Group's uniforms, while Cipriani Food and Flamingni are ready to delight guests with exquisite recipes. You can raise your glasses in a toast with Veuve Clicquot, La Scolca selections of wines and, for spritz and cocktail fans, the iconic new proposals from Campari. And to end your meal or for a quick break, Lavazza is offering its finest coffee selections.
The Monaco Yacht Club is also providing invaluable support.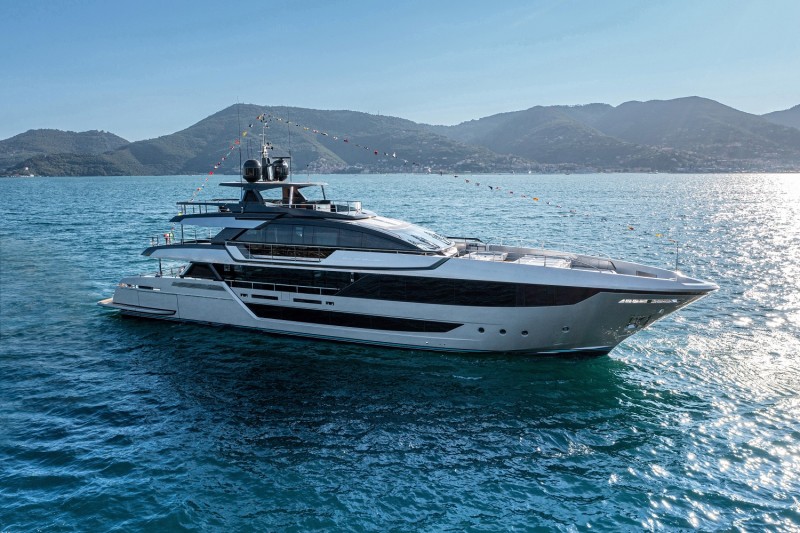 CRN M/Y Rio – Premiere
CRN M/Y RIO expresses an evolved and contemporary living concept in which comfort is taken to the next level by carefully selected details,
with an alternation of precious materials and specially devised colour schemes. The taught, sweeping lines of the hull and the almost vertical
bow express the clearly dynamic and sporty personality of this yacht, which also surprises for the perfect balance achieved between interior
and exterior volumes, creating a strong sense of open space and an exciting interplay between indoor and outdoor ambiences. The skilful
distribution and exploitation of space reflects the personality of an owner who is passionate about life on board and requested generous,
light-filled interior and exterior living areas for a cruise experience to share with family and close friends.