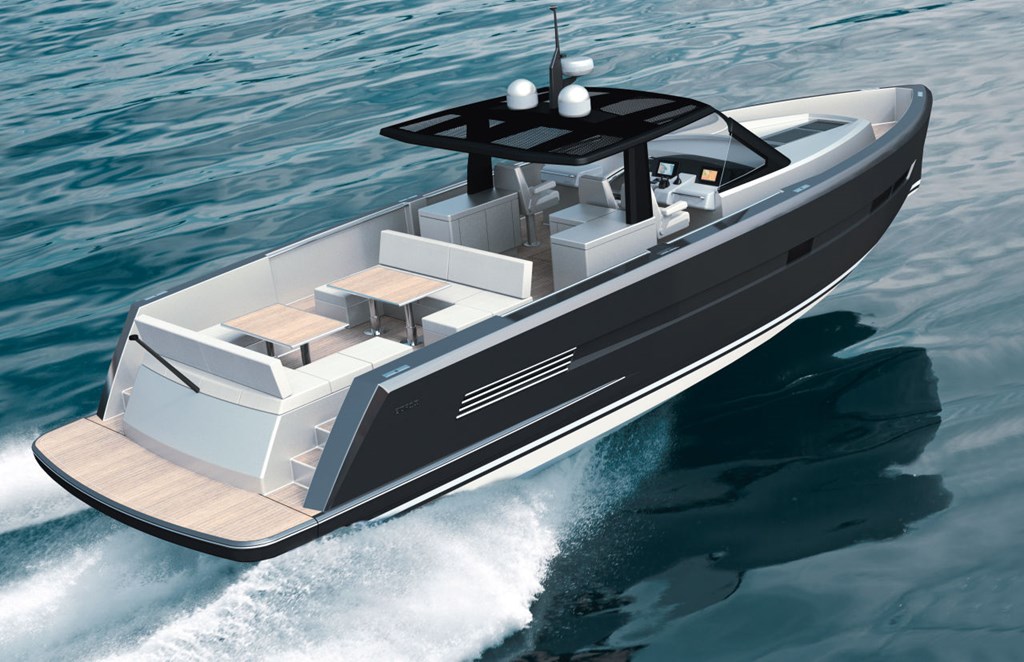 The new Fjord 38 open stands for the highest standards in driving dynamics and a clear development of the well-known Fjord design. Specially aimed for sunny waters, the new poweryacht offers beside engine power and the characteristic hull also protective shade for the entire cockpit. The most important features of the Fjord 38 open at a glance:

– The extended, aerodynamic T-top provides – together with the electrically extentable bimini – the largest shadow area in this boat class.

– Sporty, ergonomic helm seats

– The dashboard is designed in purist glass-bridge-look and offers easiest control of the instruments

at the touchscreen surface.

– In addition to the lounge area in the bow the cockpit can be equipped with a lowerable table and

two comfortable seat benches, which also can be transformed to a large sunpad

– The new designed interior offers a well-balanced composition of materials in both master cabin and

en-suite bathroom.

The Fjord 38 xpress has been extensively refitted and as well as the FJORD 38 open been equipped with the enlarged, shady T-top. What`s more, ergonomic helm seats, a stylish glass-bridge dashboard, a new front window and the exclusive interior with its refined mixture of materials.

With the new designed interior of the Fjord 52 open the avant-garde look has now also arrived under deck. The triad of modern finished woods, mirrored closet doors and select wall textiles shapes the cabin look of the Fjord flagship. The daily needs in the bathroom will be beautified by elaborately crafted designer fittings and a harmonious blend of materials.

From 10-15 September the new designed Fjord 38 express will be exhibited beside the Fjord 40 open, Fjord 44 open and the Fjord 52 open during the Cannes Yachting Festival at "Quai St. Pierre" in the Vieux Port.
For possible viewing appointments of the new Fjord 38 open and the refitted Fjord 52 open we will keep you informed.