With the Monaco yacht Show nearly upon us, the year is racing and Hoek Design has plenty of exciting news to share on the latest launches, designs in-build, and exciting new projects from our drawing boards.  

Hoek Design has been active in the design of a number of different superyachts this year in sizes varying between 90 and 250 ft – three of which are being kept so tightly under wraps we're not yet able to share news with you about them. However, we can tell you about the no-less exciting and spectacular recent sailing and motor yacht projects we have at hand which you will see below.




The semi custom series Truly Classic range of yachts is ever-expanding and our team is proud to see existing clients come back for a larger yacht, showing this concept is in demand and popular. We are involved in various sizes and are working on a third and fourth TC128 that are both under construction. Unique is that two clients in this size previously owned smaller Truly Classics. We never expected this concept to work so well at this large size but are very happy to see this family of yachts grow. The yachts are being built at different yards in different countries presently; the TC128-3 in Turkey and the TC128-4 in the UK.




AWARDS

TC 128-2 Vijonara collects a swathe of awards

Truly Classic 128 'Vijonara' has been busy assembling a collection of awards. Launched in spring 2018, the sister yacht to 'Atalante' was nominated in the Spirit of Tradition category in the Classic Boat Awards alongside fellow Hoek Design yacht, Pilot Classic 66 'Sultana', before collecting the prestigious World Superyacht Award 2019 in May. She also won best Exterior Design at the Boat International Design awards in Cortina, Italy and we're exceptionally proud of her reception on the world stage.




The 76 ft chase boat 'Stargazer' was built at Claasen Shipyard as a support vessel to a large sailing superyacht to our designs to tender to and from the mothership as well as a large comfortable diving platform and as extra crew or guest space. Though built as a chase boat, no care was spared in her design resulting in a timeless, classic style which complements the mothership. No ordinary tender, 'Stargazer' has a range of 900 miles at cruising speed and has three cabins, a large, lowering swim platform and is capable of top speeds of 25 knots. Her lightweight hull sees her cruise comfortably at 20 knots, with a length overall of 23 metres and beam of 6.6 metres.




At Vitters Shipyard a 50 metres ketch is nearing completion for launch early next year. The owner's brief called for a vessel to stand the test of time in terms of overall design and with superior sailing characteristics in both race regatta mode and family cruising.

"The owner's brief was for a beautiful traditional yacht that would be competitive in race regattas without sacrificing comfort and speed while cruising worldwide" remarked Andre Hoek of HD". The boat is stunningly elegant with long overhangs, a slight tumblehome contributing to hull form stability, optimized hull, and well-conceived sail plan. She will be equally adept cruising in remote areas, sailing competitively in a regatta, and making long passages under sail."

Extensive computational fluid dynamic modelling and windtunnel testing has resulted in a graceful, fast and stable hull shape. 




The 56 metre (184 ft) expedition motor yacht 'BLUE' is under construction at Turquoise Yachts and is due to launch late this year.

'BLUE' is a spectacular new motor yacht concept built for exploring the far ends of the world from the Arctic to the Antarctic, Alaska and the Northwest passage. She is built to Ice Class with diesel electric propulsion and has all gadgets a superyacht of this size could require. A few features are under deck storage of a 10 metre owners' tender, a second 8 metre tender, a large retractable crane and plenty of toys.

Her layout encompasses two owners' cabins, four guest cabins and six crew cabins. One owners' cabin is on the main deck and one on the upper deck with a private owners' office accessible from the upper deck owners' cabin. The interior is to our designs with interior decorating and support by John Vickers Studio in the UK. The owners' representative is Richard Masters from Master Yachts. We're looking forward to showing you more in future upcoming newsletters.




The TC 128- 3 is being built at SES Yachts in Istanbul on the basis of an aluminium hull built in Holland at Bloemsma. This is the first time we are involved with this yard but going very well and to high quality levels. The design of this yacht is based on the same hull lines as the first two TC 128's that were built but her deck layout is quite different with one deckhouse and two cockpits; one for sailing and one for dining and socialising. She will have a fractional rig that will look very similar to a J Class from a distance. Our office is involved in the naval architecture, exterior styling and complete interior design.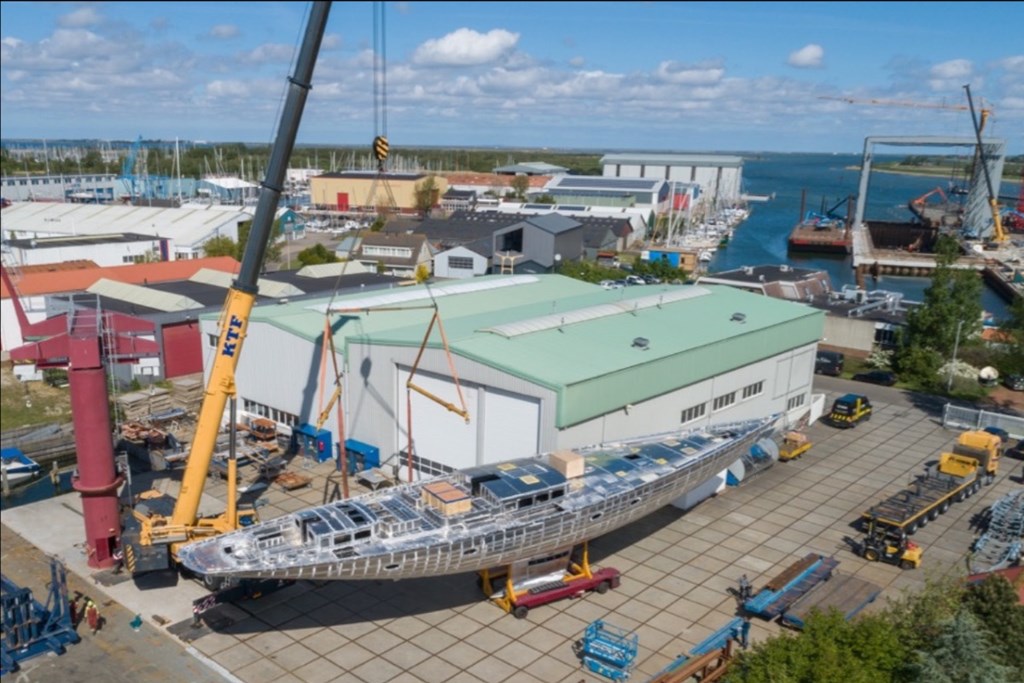 The TC128-4 is presently under construction at Pendennis with the hull also built at Bloemsma in Holland. This is the second project we will have completed with Pendennis, following the very successful delivery of TC128-2 'Vijonara' in the spring of 2018. This project will benefit from our vast experience in building yachts of this size, as well as the 'Vijonara' build team's collective knowledge and expertise. She is well advanced and due to be delivered to her owner in the summer of 2020.

The yacht is extensively customised but shares the same hull lines, keel and rudder as the first two yachts that were built to this design. Hoek Design is responsible for the interior design with Ken Fulk in New York in charge of the interior decorating. 



 

The fourth yacht in the Truly Classic 90 series is under construction and scheduled to be launched in spring 2021. This vessel will build on the successes of her three predecessors which have all proven themselves both as highly successful, elegant cruising yachts, in-demand charter vessels and effective Spirit of Tradition regatta competitors. The aft owners' accommodation will benefit from direct access to a separate cockpit. Under construction now, TC90-4 is listed for sale with Hoek Brokerage. 




 

Another very exciting project is the modernly-styed 76 ft ketch 'ILTCHI' (named after the horse of Winnetou) under construction in Holland. She is designed as a world-cruising yacht to be sailed by a shorthanded crew of owners and one/two permanent crew members and incorporates a galley and dining in the main deckhouse, This feature is something the owner insisted on and could not find on the market – a so called liveaboard galley. In many families this is where life happens, be it at home or on board. The yacht is designed as a ketch with a keel centreboard that is deep enough to sail properly with the board up but still shallow draft and with very good upwind performance with the board down. She is designed with a very large aft cockpit and grand main deckhouse, owners' cabin and three guest cabins where one of them can be used as a crew cabin. Launch is due Spring 2020.




A second Pilot Classic 55 is presently under construction in epoxy composites with carbon reinforcements for Performance Classic Yachts by Metur in Bodrum. After two very successful and similar styled PC 66's and a PC 55 this new yacht is banking on the experience of these previous built yachts.
Another new and exciting 85 ft design for Performance Classic Yachts is presently in development. More about this design will be shared in the near future.




Inspired by the boat Bystander that used to get the J Class Endeavour and crew to the race course in the time that the J's did not have their own engine, this boat oozes elegance. The intention of this design is to be used as a canal boat in the City of Amsterdam as well as to explore the rest of Holland. For silent river cruising she will have an electric engine and to overcome the longer distances on the lakes the boat is able to go planing at 25 kts with a Yanmar 230 hp inboard diesel.

The layout provides a small double bed in front and has a toilet and small pantry inside. Outside the doghouse is enclosed in front with windows that can fold down for fresh air and the aft end is open to the large cockpit that can accommodate many guests or have a removable cockpit table with director chairs to cruise in style with its typical Hoek Design exterior details of the teak work.

The aluminium construction is by Freddie Bloemsma and will be finished by Younique Yachts in Makkum, The Netherlands.




The design of this brand new 136 ft Truly Classic was originally done for a client who wished to build a TC128, sister vessel to hull number 3 of the series, but came to the conclusion that a 136 ft would suit his interior needs.

She is designed for luxury charter and has six guest cabins with ensuite bathrooms and crew accommodation to suit. The deck layout comprises one deckhouse and two separate guest cockpits; one behind the deckhouse and one in front of it, with the sailing cockpit aft of it all. The sailplan shows a masthead rig with a bowsprit to enable a code 0 on a hydraulic furler for ease of handling. Her hull will be built in aluminium in the Netherlands and she will most probably be finished elsewhere.




We have created designs for the Eagle 38 and 54 series of yachts and have recently made a new design at 70 ft in a similar style for Leonardo Yachts. The renders show that the lines of the yacht are a close family but the new 70 has a clear difference in that she is not only a daysailor but can also be used as an ocean-going yacht. Conceptually, she shares the retro classic look, a classic sheer with flush deck, low cabin with glass wraparound windows and a large aft cockpit.
Sail-handling is designed such that she can be sailed by two or singlehanded depending on the systems installed. The interior layout is where she is greatly different with full headroom throughout, a large owners' cabin and two proper guest cabins with ensuite bathroom. Her performance is optimised extensively and she is available in different keel and draft options.

The yacht will be built in the Netherlands in composites and will be the largest yacht in the series to date.





Based on our in-build 56 metre expedition motoryacht, we have crafted a new design of a classically-styled 38-metre expedition yacht to meet the needs of clients who want a go-anywhere yacht, under 300GRT. With the 56-metre due to launch later this year, the 38 metre design is based on a steel hull and aluminium superstructure for an expedition vessel that can circumnavigate while retaining fuel efficiency.

The design is sized to be just below 300 gross ton for crew and equipment regulations, which makes it possible to sail with less crew whether for charter or owner use under the present regulations. We've designed the 38 metre expedition motoryacht to be customisable to various layouts allowing owners to create their yacht around their wishes, drawing on our experience gained with the 38 metre's larger sister vessel.



 

The TRADEWIND project is based on the sturdy, yet elegant classic lines of a restored Herring Lugger. The vessel SCH 468 was commissioned as a sailing vessel in 1911 for herring fishing in the North Sea. Later she was converted from sail to steam and later again diesel engines were fitted to bring her up to date with 'modern times'.  Later on she was converted to a sailing charter vessel before being decommissioned as such in 2010.

During her time, the vessel circumnavigated the globe several times, proving herself to be very seaworthy. The vessel originally measured 26.80 m. and had a beam of 6.70 m. which allowed perfectly for a 5 metre extension, creating an elegant hull of 31.80 metre LOA with lots of volume and space. The Hoek Design team created beautiful plans for the conversion of this vessel from her original lines into a stylish classic motor yacht.

The layout is based on the current watertight bulkhead arrangement and offers three levels of glorious accommodation. The attached plans give you a preview of one of the possibilities with this yacht. The galley could also be in the crew area on the lower deck, while other layouts are possible as well.




On the J Class front, we have been heavily involved this winter in further optimising the J Class 'Topaz' which resulted in a great performance of Topaz in Palma beating her rival J Class, Velsheda and winning her class – as well as coming very close to winning the overall Superyacht Cup in Palma.

As we've come to expect, the Superyacht Cup Palma featured great racing across classes and as well as Topaz in the J Class, the Truly Classic 90 Kealoha raced in Class C with a non-pro crew and ended third in her Class. 
 
Topaz won the annual Hoek Design Cup as best performing yacht designed by our office, that participated this event. This is the tenth year we have awarded this prize during the Palma superyacht event. 



 

On the day sailor front we are working with several production yards including Leonardo Yachts building the Eagle range (Eagle 38, 54 and 70), Essence Yachts building the Essence 33 and Doomernik Yachts building the Wally Nano's. Each yard has been busy building different designs, all of them in composites. We've been thrilled to see this wide range in production; each with their own benefits. 

The new Eagle 38 is a single-handed day sailor with similar lines to our Eagle 54, a large cockpit layout, interior with a V berth forward, sofa/berth to starboard and a head as well as the opportunity to customise. She has been designed on the basis of our experience combined with that of Leonardo Yachts and the first two have been delivered this summer.

The 33 ft Pilot Classic day sailor Essence 33 is being series-built with number seven launched and number eight under construction. The 33 foot cruising yacht is executed to a level of quality more reminiscent of a superyacht and provides expansive sunbathing area, large cockpit and ample space in the interior. 

Wally Nano MkII's unmistakeable contemporary-classic lines speak of its advanced construction technology, design techniques and sailing features. These vessels are popular wherever sailing is loved with Wally Nano 6 in Japan and Wally Nano 7 at Lake Geneva in Switzerland, both launched this year.