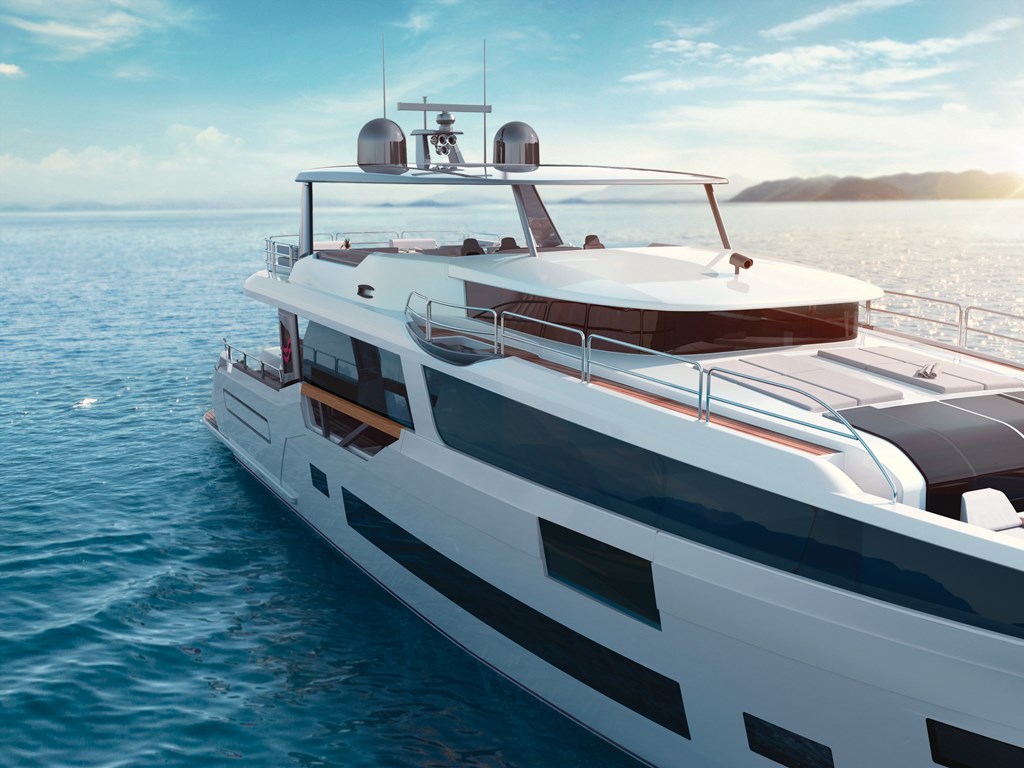 –   A five-stateroom layout with main-deck master suite will give the owner's party plenty of room
–   Anticipated performance for efficient cruising is based on twin 1,550-hp MAN engines
–   Interior design by Cor D. Rover
–   Naval architecture by German Frers

Construction of the Sirena 88 Hull No. 1 is well underway. The build marks the latest design from Sirena Yachts to become reality, and also is the largest build for the marque to date.

[[10]]

The composite hull was fully vacuum infused, using E-glass and vinylester resin. Theall-carbon-fiber-construction deck and super structure also were vacuum-infused, and the hull,deck, and superstructure have been joined. Construction has also begun to fit out the furniture of the main deck interior a swell a sareas on the lower deck and the flying bridge.The hull features naval by German Frers and the interior design is by Cor D.Rover

The Sirena 88 will have prodigious volume in a raised pilothouse design, and will featureafive-stateroom layout with a main-deck master with panoramic views. The master suite will have a sitting are at oporta long with a fold out balcony. Tostar board will be a combination desk and dressing table.Forward,the head features distinctive windows that curve into the over head to serve as skylights along with a walk-in double shower and private toilet compartment

The comfortable layout below decks features an amid ships VIP suite and forward luxury guest cabin with private head will have a pairo fen suite double guest state rooms between. A full-beam crew area insulates the guest accommodations from the engine space, and provides uptofour crew with a private sitting room and twocabins

[[20]]

"The layout is something that we can change to meet a client'sneeds,"saysTan il Surmeli, product manager for SirenaYachts."We are ableto play dramatic ally with the spaces with in the structural confine softhis hull. As a semi-custom builder we are open to theirideas."The yacht's raised pilothouse provides excellent sightlines for navigation while taking the business of operating the yacht out of the main-deck areas to allow for a relax in guest experience

The main-deck social area will have a large formal dining table with seating for ten, served bya nearby galley. Afta seating with facing U shape dand straight sette es will be a gathe ring spot for guests, and opens through wide doors on the sheltered aft deck, where another diningare a stretches across the transom. Down port and starboard stairs will be the swim platform,servedby a striking beachclub built into thetransom

[[30]]

The flying bridge will be a social space all its own, where the upper helm is located for ward tostar board. Abar will serve yetano ther formal diningtable while a ft group in gsofsettee swill surround large cocktail tables. A whirlpools patub will be near by to help guestre laxeven more. The fore deck social are a will be protect ed from wind and ensure privacy with high bulwarks, while a dipping pool will be flanked by sun pad lounge areas to eitherside.Her advanced naval architecture by German Frers is enhanced by high-tech res in infusion construction and generous use of carbon fibertore duce weightand optimize the vertical and longitudin al centers of gravity. The Sirena 88 will performat both planing and displacement speeds comfortably and economically. She's expected to have a range of 2,430 nautical miles at 9k nots. Watch for future up date sasher build progresses over the coming months,with a nex pected launch for testing inJune."We have some additional layout ideas that we are going introduce," Surmeli says. "The Sirena 88 will make her debut at Cannes, but some additional layouts will also be shown there.