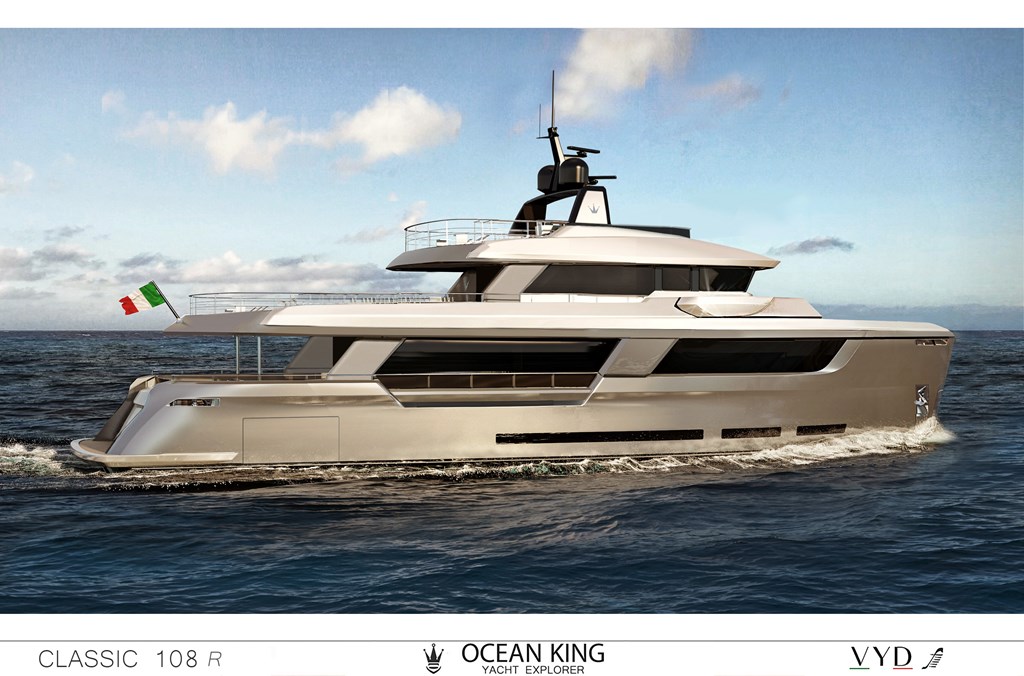 The New Classic 108 is a sleek 350 gt explorer yacht built with a length overall of 34m and a heavy displacement double-bottomed Grade A steel hull with lightweight aluminium superstructure.
 
Its huge 8.3m beam and 4 decks make for an enormous volume superyacht. With a fuel capacity of over 50,000 litres and powered by twin MAN 588kW, the New Classic 108 is capable of crossing the Atlantic and back on a single tank of fuel.





This is a yacht inspiring total confidence built to RINA C XHULL lMACH, Y, UNRESTRICTED NAVIGATION. Designed with long-range capability, safety, ease of use, reliability, and simple maintenance as key elements, the New Classic 108 uses well-engineered, proven, reliable solutions, and top brand name equipment throughout. As with all Ocean Kings, a commercial shipping technical approach combined with superyacht style, luxury, and quality abounds.
 
Developed in conjunction with the VYD Studio of Trieste, the 108 Classic offers as standard an interior 5 stateroom, full-beam main deck master accommodation arrangement with a luminous, fresh interior focusing on bringing the outside in. Bountiful lower deck accommodation coupled with an upper deck Captain's cabin will make for a happy crew.



 
Paolo Dose of VYD Studio says of the New Classic 108 "The 108 offers an aggressive and muscular look without compromising the essential elements of futuristic design. With a wide-beam, large volume luxury interior, the 108 is the product of contemporary and classic design approach, resulting in a timeless profile. She preserves her sleek look from any perspective and presents a long-range, superbly equipped, strong and sturdy truly capable explorer yacht".
 
Enormous outdoor deck space is a main feature of the New Classic 108 with multiple separate seating and sunbathing areas and the tender tucked away in a garage convertible to a beach club so as not to encroach on deck usage.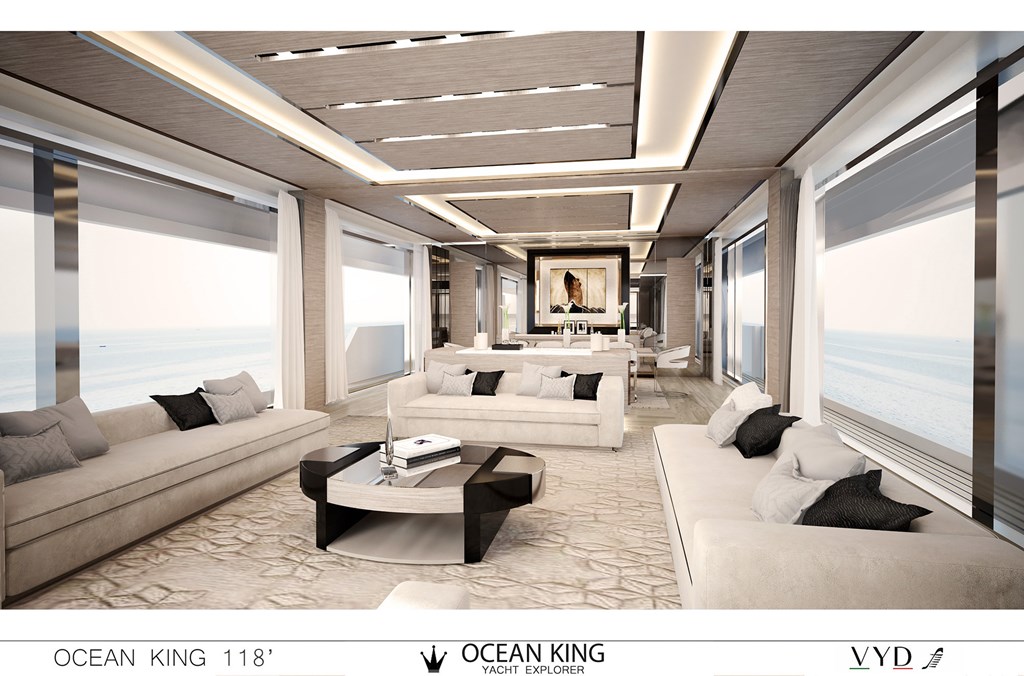 Alberto Ballarin of Ocean King says "Oceangoing credentials, contemporary timeless styling and a superyacht exterior finish & interior were the design parameters with the Ocean King New Classic 108. We are thrilled to be able to offer our customers a class and price-beating model that we are confident will stun the explorer yacht world".
 
Ocean King has recently commenced construction on a 118 model from its Ducale series for delivery in Summer 2020 and a World Premiere debut at the Cannes Yachting Festival.