Palumbo Superyachts announces the direct sale of Extra X86 Fast ex M/Y Mini K, now renamed M/Y Soney, to an Italian client.
Launched in 2019, X86 Fast boasts incredible volumes for its length, comforts usually found in a seaside villa, very low fuel consumption for a great navigation range and a layout which invites guests to embrace the sea.
Guida Design penned the exterior lines and jointly with the style office of Palumbo Superyachts leant their talents to the interior design.
Extra X86 M/Y Soney has received a major refit under the direct management of Palumbo Superyachts Ancona, the atelier for any conversion, refit and maintenance services to vessels from 26 to 80 metres.
A full paintwork has given new life to the hull of M/Y Soney and enhanced her superstructure with an elegant chalk grey. In the engine room every part has been reviewed: the engines have been regenerated and brought back to zero hours, and generators, watermakers, pumps and air conditioning system have been replaced.
All electrical and hydraulic handling parts, such as the gangway and the transformer, have been checked and repainted.
On all decks the teak has been replaced, and indoor the saloon layout has been modified by inserting a partition between the helm station and the saloon.
Access to the crew area is now positioned next to the helm station and concealed by the new bar counter.
The stabilization system has also been replaced with Humphree's modern carbon stabilizer fin system. Extra X86 Fast was designed to offer an extremely comfortable navigation experience in an informal style.
This 26-metre vessel can accommodate up to 8 people in 4 cabins, 2 of which with single beds, 1 VIP located towards the bow and 1 full-beam master cabin (6.6 metres), all with en-suite bathroom.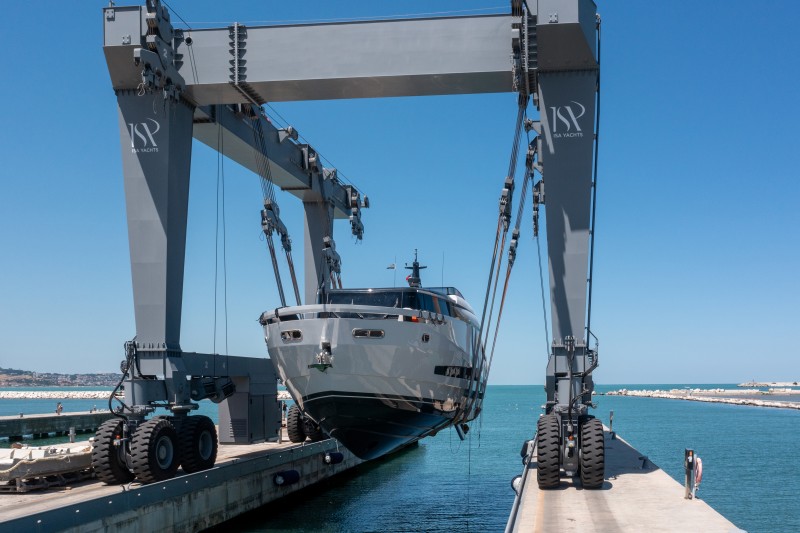 In the living zone, direct access between the aft galley and the outdoor dining area is provided by a large and bright glass window fitted with automatic up/down system.
This modern and innovative forward arrangement allows for a full-beam living area furnished with large sofas and an extendable table, for a contemporary and refined effect.
The layout design is focused on developing the concept of maximum livability in all areas: an example is given by the instant sense of spaciousness perceived by the guests when they enjoy their contact with the sea from the over 50 square metre cockpit/beach club.
The cockpit spreads over three levels sloping down towards the water. A fourth relaxation area is created by a large sun pad and a comfortable sofa in the bow.
Extra X86 Fast is equipped with three Volvo Penta 735kW engines powering the innovative IPS1350 system for an extremely silent cruising experience even at the top speed of 30 knots