A surprising model, she ushers in a new look, un unparalleled design, offering a pure and unique sensation of proximity to the sea. Her elongated silhouette and the elegance of her sinuous lines, combined with versatility and an ingenious layout, enable her to suit all cruising styles.

Versatility Personalisation
The Jeanneau Yachts 60 has been designed to be an owner's dream-come-true: a yacht created in their image. She is designed to correspond to all preferences, all
requested layouts, all cruising styles. The Jeanneau Yachts 60 is such a yacht, with her numerous options, such as the arch, the hard top, the sprayhood, the exterior galley, releasable forestay, furling mast, etc, a "Mediterranean Sport" version, as well as a version adapted for offshore cruising. All the combinations created through multiple choices of 
interior and exterior layouts, decoration and equipment make the Jeanneau Yachts 60 a true semi-custom yacht. On the interior, 19 possible layouts!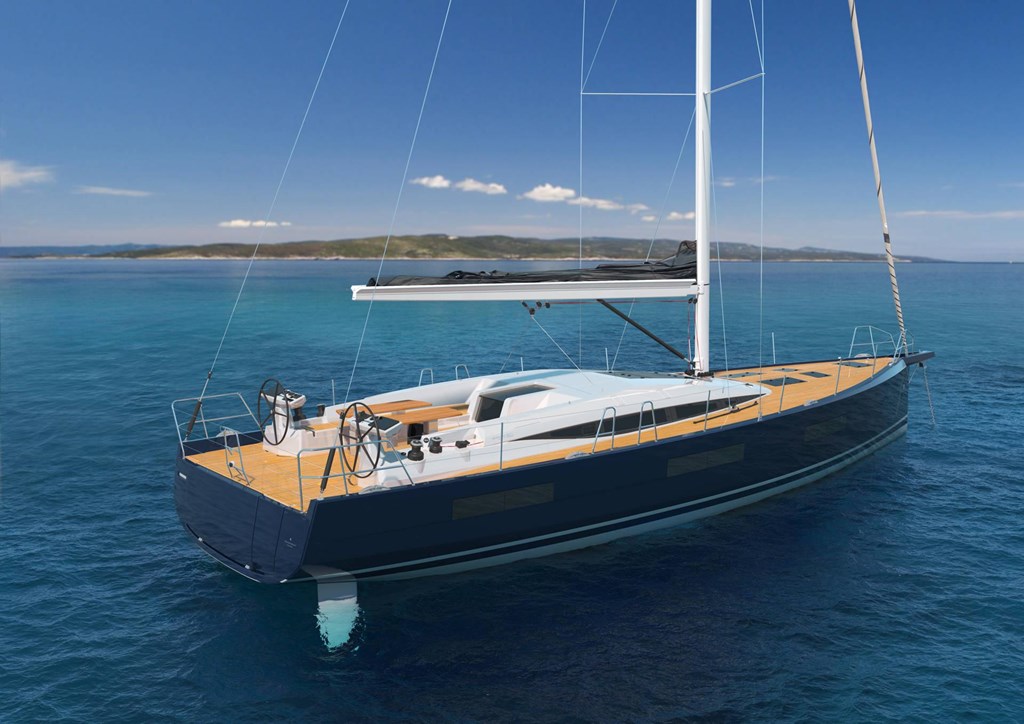 The Jeanneau Yachts 60 can be split into four living areas, each offering multiple options: the forepeak, the forward cabins, the saloon with the forward galley, and the aft cabins.
First off, the forepeak: three versions are possible, with a sail locker, a skipper cabin or a real sixth cabin. Next, two versions of the large forward cabin are possible: an
owners' cabin or a cabin with a double berth. Here, again, an extremely clever feature enables you, in under five minutes, to transform this cabin with a double berth into a true owner's cabin. The central bulkhead slides away into a dedicated storage space, without requiring tools or hardware, to enlarge the berths or convert them into a sofa.




Three possible layouts are available for the starboard saloon: a version with a sofa and accompanying chart table, a pullman cabin, or an "open plan" version that could accommodate two armchairs chosen by the customer. Finally, the aft living area can be configured as either an owner's cabin, or as two cabins, one double berth to welcome guests and the other for three children or for one other couple of friends. 

A new era in design offering fluidity and refinement
The Jeanneau Yachts 60 combines internal expertise of the Jeanneau Design department, sharp design by Andrew Winch and complete mastery of naval architecture by Philippe Briand. Exterior and interior layouts are enhanced by high-performance technology and the finest materials. Our quest for unprecedented comfort on board is paired with our desire to offer a yacht demonstrating optimal agility in its class, thanks to its long waterline, carefully balanced distribution of living space and precise distribution of technical
details. The proportions are perfect. Each detail meets the demand for excellence at Jeanneau Yachts. The exterior design enables incredible agility and demonstrates perfect harmony.




The deck, with its contemporary style, gives this large yacht timeless appeal. The innovative layout features: an inverted bow, a hull chine, an integrated bowsprit, a high sheer line, as well as angled sidedecks for easy movement about the boat without obstacles. They descend directly from the cockpit! What a pleasure it is to easily launch a tender of nearly three metres from its longitudinal garage, without laborious effort! Particular attention has been paid to the way of life on board, including dedicated living spaces for relaxation, a
galley (with an optional cockpit galley), reading, dining and sunbathing. Large openings in the hull allow bright natural light to stream through the windows, for living in symbiosis with the sea, visible even from the berths. 

On the interior, balance and refinement The perfect distribution of living spaces, meticulous attention to each detail, to  quality: this is the hallmark of design projects by Andrew Winch. Aboard the Jeanneau Yachts 60, each space has been enhanced to offer you luxurious life on board.




For the first time, the galley is positioned forward, at the mast bulkhead, for an ultra-spacious saloon worthy of a larger yacht, utilising the widest part of the hull. Sculpted surfaces are bathed in light. The integration of solid wood enables fluid lines and a pleasing feel that complements the most sought-after fabrics and leathers.

Two varieties of wood are offered: open-pore varnished teak or open-pore varnished light oak, each with matching floorboards. The upholstery selection includes five new fabrics and five leathers by Foglizzo. Three different cabin styles are available – Sand, Affogato and Royal Blue – to personalise the headboards and trim around the beds to create a unique atmosphere.

Jeanneau Yachts: Ste sail in the refined world of cruising

Designed to offer excellence in cruising, the Jeanneau Yachts 51, 54, 60 and 64 combine enduring elegance and timeless designs. Each sophisticated detail, inspired by the largest yachts, is perfected in pursuit of individuality. For power and ease of handling, Jeanneau Yachts rely on cutting-edge technology and innovation to deliver an unforgettable experience. They offer a new vision of cruising, between luxury, comfort and the pleasure of cruising. 




This line enables the owner to adapt their yacht to suit their lifestyle. Unique and intuitive, the Jeanneau Yachts signature infuses your cruising with thrilling, effervescent energy. Living spaces subtly combine well-being and safety, refinement and relaxation. This harmonious blend has been conceived for exceptional comfort on board, worthy of larger models. The Jeanneau Yachts line has recently enriched the Jeanneau sailboat range, alongside the Sun Odyssey and Sun Fast lines. 

According to Andrew Winch, elegance is in the details

Heritage of the sea…. From his childhood spent on the southern coast of England, Andrew Winch holds an immutable passion for the nautical world, which has made him an nternationally renowned interior architect. For over 25 years, Andrew Winch has fixed his gaze on Jeanneau sailboats: he designs living spaces with particular attention to detail and the quality of fit and finish. As testament, the excellence demonstrated by the new Jeanneau Yachts 60 opens up a new horizon for the Jeanneau Yachts line, one worthy of the largest super yachts.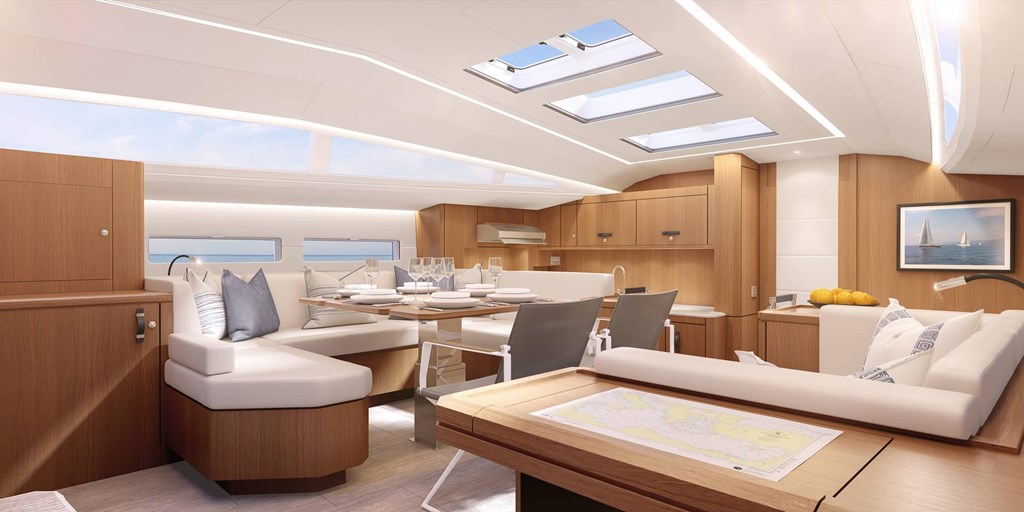 Philippe Briand and an obsession with harmony

Over 12,000 sailboats have been created by his hands. A single obsession guides his work: the mastery of harmony in design, technical details and space. Winner of numerous awards, Philippe Briand is an inspired naval architect who is renowned in his field, notably in the design of simple, fast hulls. 

Key Technical Features of the Jeanneau Yachts 60
Overall Length 18.39 m
Hull Beam 5.20 m
Deep keel draught 2.55 m
Shallow keel draught 2.10 m
Cabins 3 – 4 – 5 – 6