Vittoria Yachts is going home feeling very satisfied indeed with the results of the first of the September yacht shows. This was the yard's second consecutive year at the Cannes Yachting Festival (which took place between September 6th and 11th). This time it boasted a completely redesigned 35 square metre stand at a prime location on the Jetée, where all the motor superyachts are moored, making it a real magnet for visitors. In fact, throughout the Festival's run, the new stand attracted huge interest from both visitors and sector professionals alike. The yard, which is a subsidiary of ship, fast patrol and military vessel-specialist Cantiere Navale Vittoria, founded by the Duò family in 1927, made its debut in the yachting world in 2020 and currently has two fully customisable superyachts under on spec construction. Designed entirely by the Hydro Tec naval architecture and engineering studio, they are the Bow Sprit 54m Explorer and Veloce 32 RPH to which modifications were made recently.
"We are delighted to have taken part in this year's Cannes Yachting Festival – we find it an extremely emotional experience every year because it allows us to compare ourselves with the sector's most prestigious businesses. There was a lot of interest too and we made an impressive number of contacts. So Vittoria Yachts is in full sail with new clients at the door and lots of new negotiations in the works," says Michele Zorzenon CEO of Vittoria Yachts. "In terms of construction progress, the Veloce 32 RPH's hull is almost finished so the metal work is in its final shape and almost complete too. As ever, the whole custom concept is imperative to us: so we are adapting some details to owners' requests. We can say the same for the Bow Sprit 54m Explorer, where the construction blocks have advanced significantly with the result that the hull is now more than 50 per cent completed. We are confident of coming to major agreements very shortly with clients as well as new partners and brokers".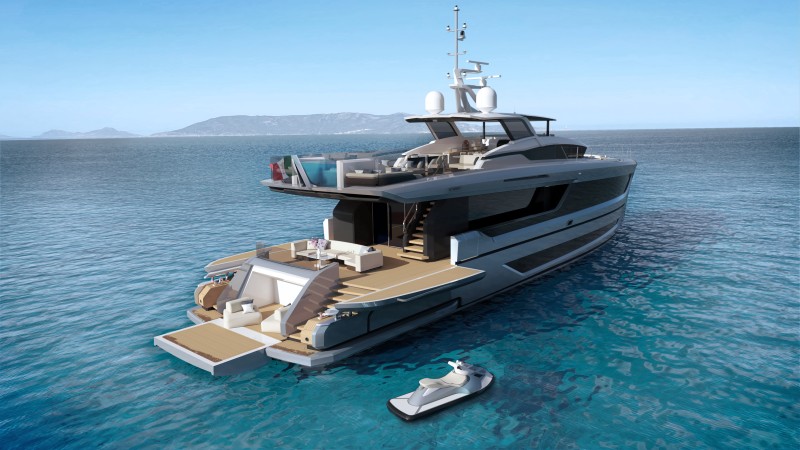 As its name suggests, the Veloce 32 Raised Pilot House is clothed in sporty lines but designed for owners that want a yacht built with signature Made in Italy care and craftsmanship to a standard that only a yard with over 100 years of experience in shipbuilding can guarantee. Importantly, however, it also delivers superbly high performance underway. Stretching 32 metres in length with a beam of 7.2, this semi-displacement yacht delivers exceptional comfort and efficiency at a speed of 20 knots. Its plumb bow lends the exteriors lines character and adds extra space to the interiors. The new stern configuration includes a beach club that is the very pinnacle of relaxation at any time: both sides of the cockpit lower, further increasing the available space and turning it into a gorgeous suspended terrace. There is also a lounge club that is in direct contact with the water, creating a sublime water-skimming private beach.
While underway, the toys and jet ski are stowed in the stern garage and when not, are deployed through the starboard hatch. At anchor, that area converts to a sunning area with sun loungers and umbrellas, creating a sense of unparalleled luxury in seamless contact with the waves and cooled by the sea breeze.
Work will be completed on the first example in January 2024.
Bow Sprit, a 50m Explorer that is under the 500 GT threshold, is clothed in masculine lines and boasts an imposingly rugged hull. Its main characteristics are a 360 degree crow's nest that affords absolutely spectacular views of the surrounding seascape, and a bow sprit (hence its name). There is also an exceptional inside-out connection both in the al fresco aft area and in the interior communal areas where there are full-height windows. The aft section offers a massive 250 square metres of space between interior and exterior: it extends into the interior from the beach area to create a large saloon with dining area. Although a technical area, the bridge also has merchant vessel-style floor-to-ceiling windows. Two pools with panoramic glazing, one on the sun deck and the other aft, both with special effects, complete the Bow Sprit Explorer's amenities.