It is well established that a chase boat must complement the mothership, but Turkey's Alia Yachts has gone one step further. In delivering the 27m Atlantico, Alia has managed to extend the larger boat by providing a platform that fully matches it in terms of look, quality and function.

"The brief was for a chase boat, but that doesn't do justice to the scope of the project," says Gökhan Çelik, President of Alia Yachts. "This is a boat that can entertain guests in the same high style as the mothership, effectively extending her accommodation with two luxurious double cabins. Across its 27m, Atlantico offers an extendable beach club, huge forward lounge, protected saloon and exquisite interior."




The complex project fused naval architecture from Lateral with Alia's shipbuilding know-how, which extended to every element of the interior furnishing. "The idea with Atlantico, from the real beginning, was to create something innovative & unique that could fully satisfy our needs: a fast & comfortable chase boat which can also be used independently. The initial concept was to try and break conventional boundaries of width, proportions and liveability of a support vessel," says the owner of Atlantico and the mother ship Atlante. "Through tight collaboration of those involved, the outcome is a fast open-plan platform by the sea with no compromise on quality, style, innovation and performance."

Build captain and skipper Tolga Han refers candidly to the challenges involved in such an interesting and unique design. "Sometimes, you can't just build what you see on the drawing. It was invaluable having a skilled team that would sit and discuss openly and creatively to find a way to solve all the issues that arose on a daily basis."




First up, the hull needed to be capable of high speeds, so it was designed with a broad beam of 8.35m and three of Volvo's most powerful IPS1350 engines, generating an exhilarating 3000hp. This makes it possible for Atlantico to plane despite her size. It also gives her responsive handling and a very sea-kindly motion, even in heavy seas. Besides the stability the broad hull imparts under way, two Seakeeper 26 gyro stabilizers keep her steady at rest.




"We were originally approached because of our combined superyacht and naval vessel experience," says Gary Rossall of Lateral Naval Architects. "The challenge was to provide a proven hull form for this specific role, with demanding performance and seakeeping requirements. The hull is derived  from one of our proven patrol vessel platforms and had therefore benefited from extensive development and testing of the key attributes."
 
Naturally, the exterior look of the boat reflects that of the 55m mothership, Atlante. She is an aggressive explorer-type yacht, and her distinguished owner therefore required an equally capable looking chase boat. The aluminum hull shares a lighter shade of Atlante's grey DuPont metallic topcoat system, and features similar circular windows. The angular deckhouse surmounted by a military-looking mast also echoes the mothership.
 
With a light-caulked teak deck, pale-colored sofas and sunpads and dark, glossy columns in the deckhouse, Atlantico subtly reinterprets the feel of the mothership. But there is no mistaking the serious intent of this 27m yacht. "She is bold, masculine and fast" enthuses Çelik.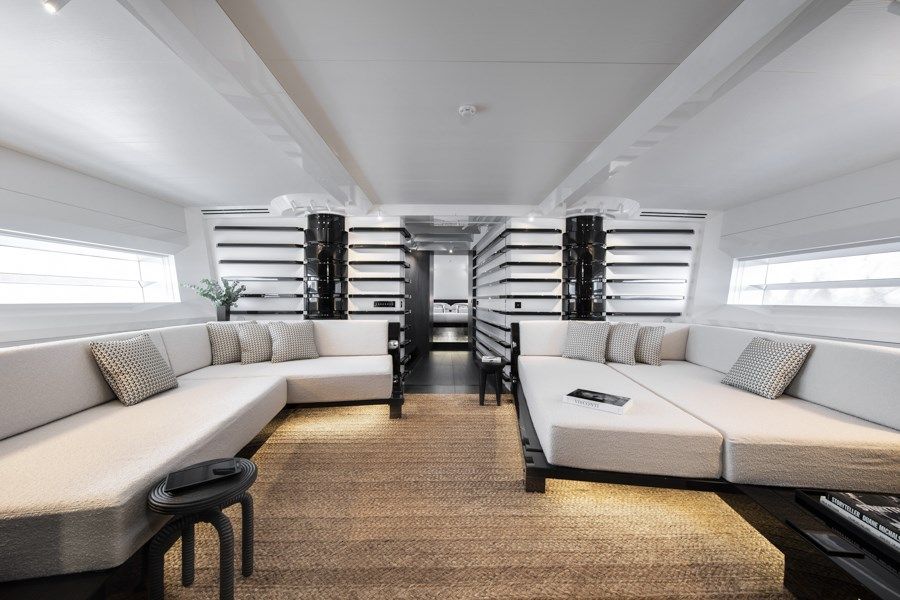 The blend of cool and comfort continues below, where there are two impressive double cabins with large freestanding beds. Gloss white walls contrast firmly with the dark, lavish wood of furniture and bulkhead paneling, all cleverly lit by indirect light. Small details strike you, such as the multiplicity of storage, hidden behind tessellating wooden panels with flush opening mechanisms.
 
There are all the amenities required of a large yacht, with two sophisticated shower rooms and a very capable crew galley aft, together with accommodation for up to four crew. "Atlantico is far more than a chase boat," says Çelik. "This is a boat which can easily be used as a stylish weekender for exploring shallow bays or inaccessible islands, and offers both exhilarating speed and the range to cover 600 nautical miles at cruising speed."
 
"We have built a very unique vessel that reflects her owner's unparalleled vision and impeccable taste. To bring this machine into being with uncompromising quality, and within the requested performance levels – it was a challenge for all those involved. We couldn't have done it without the experience we have gained from building highly complex 50m-plus superyachts."
 
And it seems that the owner's vision has been fully delivered. "Atlantico turned out to be the perfect fit for us: extensively used as a chase boat for fast transfers and beautiful days at sea. Perfect for short "independent" getaways," adds the owner. "Alia was pivotal in the realization and construction of the project. Quality and attentions to detail outperformed our expectations."