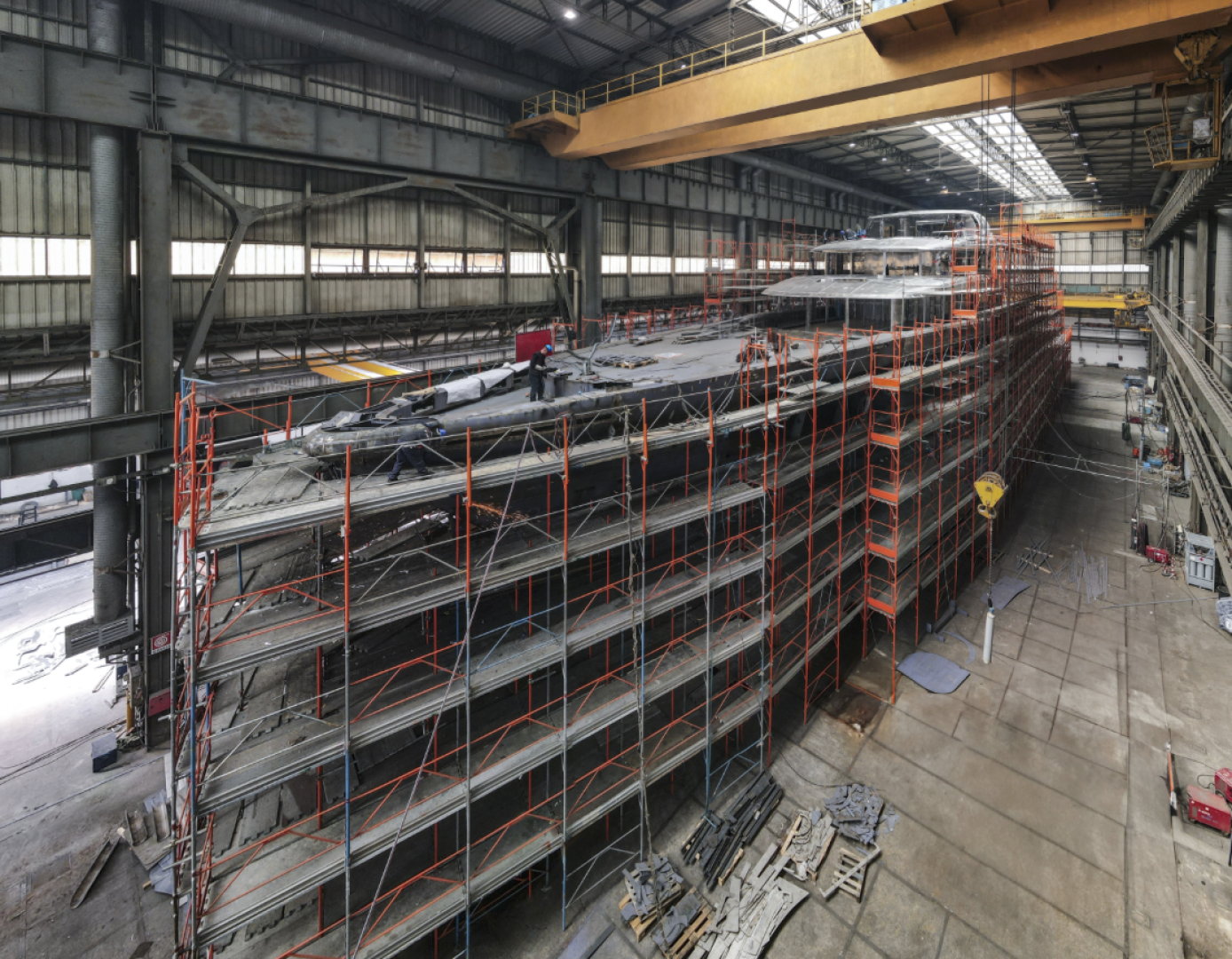 Following the laying of the keel announced a year ago, the construction of Wider's Moonflower 72, a full custom project designed by Nauta Design, continues on schedule at Wider's Superyacht Hub in Porto Marghera, Venice.
The steel hull and aluminum superstructure have been joined, and the "hot works" are now completed. Machinery outfitting is progressing, and the main engines will be installed later this summer. Piping on the lower decks is underway, and the compartmentalization of the interior spaces on each deck is proceeding, as is the interior outfitting.
Officially signed in January 2022 and with delivery scheduled for 2025, Moonflower 72 is the first full-custom new-build project after the recapitalization of Wider led by Marcello Maggi, head of W-Fin Sarl, the holding company that owns 100% of Wider equity. "The construction of Moonflower 72 is well underway at our Superyacht Hub dedicated exclusively to full-custom projects," says Marcello Maggi. "We specifically chose Venice due to its strategic position and the professionalism of the various workers involved. In addition, the harmony between Wider and Nauta Design means that the work is continuing in full compliance with the production plan."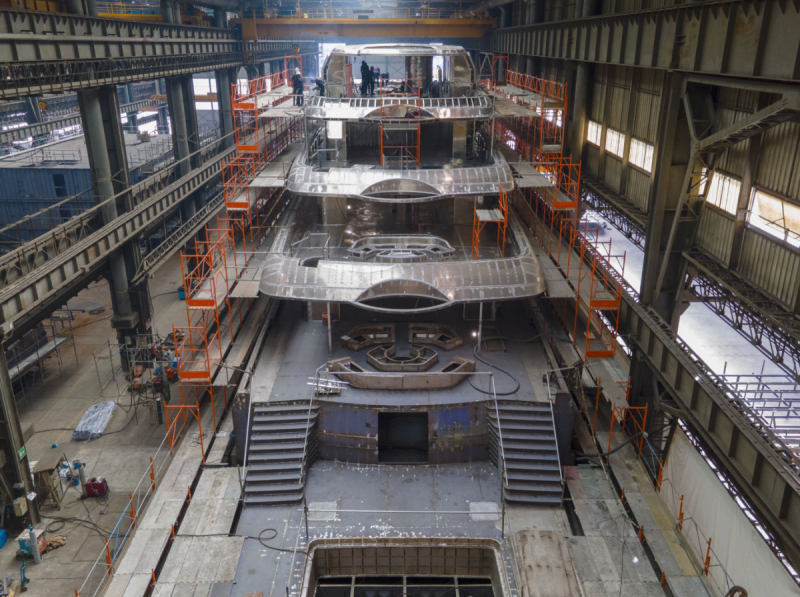 "Moonflower's design is modern yet timeless and based on the balanced combination of style and comfort with pure, elegant lines and a harmonious connection between exterior and interior, making for a very close relationship with nature and the surrounding marine environment," says Mario Pedol, co-founder of Nauta Design in Milan. "We are happy and proud to contribute with Wider to this amazing superyacht which we are very much looking forward to seeing in the water!"
The Moonflower 72 will be equipped with the Wider's latest generation hybrid propulsion system comprising two variable-speed generators supplied by MAN Energy Solutions of 1.860 kW each that, in combination with a sodium nickel battery bank of approximately 1 MW/h from FZSoNick, give the chance to produce energy always at the lowest point of consumption, reducing the CO2 emission of about 20%.
The endothermic engines are HVO (Hydrotreated Vegetable Oil) and Methanol ready in order to follow the Wider net zero way. Moreover, the energy dissipated in the form of heat from the electric propulsion system will be recycled for all the hot-water uses on board and the operation of the onboard amenities has been optimized to ensure maximum efficiency.
More information about the Wider Serial Hybrid System
A new vision in the world of yachting: efficient, silent, reliable, environmentally friendly, and flexible. Wider is the first shipyard to introduce serial hybrid propulsion technology in the full-custom superyacht industry, thanks to the research and development efforts carried out in recent years, currently also implemented onboard Wider catamarans.
In the conventional diesel-electric system, electric propulsion offers a straightforward alternative to
diesel propulsion. However, this solution doesn't allow for short journeys or for remaining at anchor for even brief periods of time without producing emissions.
Wider's groundbreaking serial hybrid architecture ensures a fully modular and highly flexible system, designed for continuous upgrades with components aligned with the most advanced technology.
At the core of the Wider serial hybrid system lies a DC-Bus, an energy reservoir that connects and manages various components: generators, batteries, electric propulsion, thrusters, hotel utilities, and solar panels. The incoming energy flow, generated by either diesel generators or solar panels, is controlled by the Wider PMS (Power Management System), accessible from the bridge and featuring an extremely user-friendly gaming-inspired interface. Energy is directed to the utilities that require it, or if there's a surplus, it's stored in onboard batteries.
The battery banks are central to the serial hybrid propulsion system. The Battery Management System continually monitors temperature, current, charge level, voltage, and other physical parameters. These intelligent boards communicate with one another to balance the charge produced, thus optimizing performance.
Generators only operate when necessary and at their lowest power consumption rate.
Wider's technology allows for cruising in Zero Emissions Mode for up to 10 hours and the use of all hotel and service systems for up to 30 hours. By generating power precisely when needed, engines endure less strain, resulting in longer intervals between overhauls compared to traditional yachts.