Denison is pleased to announce its partnership with Nobiskrug as dealer for Project "Lycka", a 77-meter yacht concept in collaboration with Tillberg Design of Sweden. Nobiskrug is a German shipyard specialized in building innovative, custom-made luxury superyachts.
"Denison Yachting is thrilled to be the dealer for Nobiskrug & Tillberg Design of Sweden's Project Lycka," remarked Denison yacht broker Tony Smith, who is responsible for promoting all sales and marketing for Project Lycka. "Nobiskrug shipyard is a proven specialist in forward-thinking design & technology. Denison Yachting has a very close relationship with Tillberg Design of Sweden and is impressed by the Nobiskrug collaboration."
"Additionally, the acquisition by Tillberg Design of Sweden's Viken Group of HotLab expands its capabilities into the luxury yachting market, with a focus on sustainability. The design of Lycka brings many unique elements home to this vessel. Today's customers are very attuned to sustainable vessels, optimized for efficiency with electric propulsion, while incorporating aspects you would expect, such as the dedicated beach club and spa, gym, private office, central elevator, various balconies, and sundeck. Denison Yachting is honored to be working on globally promoting Lycka for Nobiskrug & Tillberg Design of Sweden."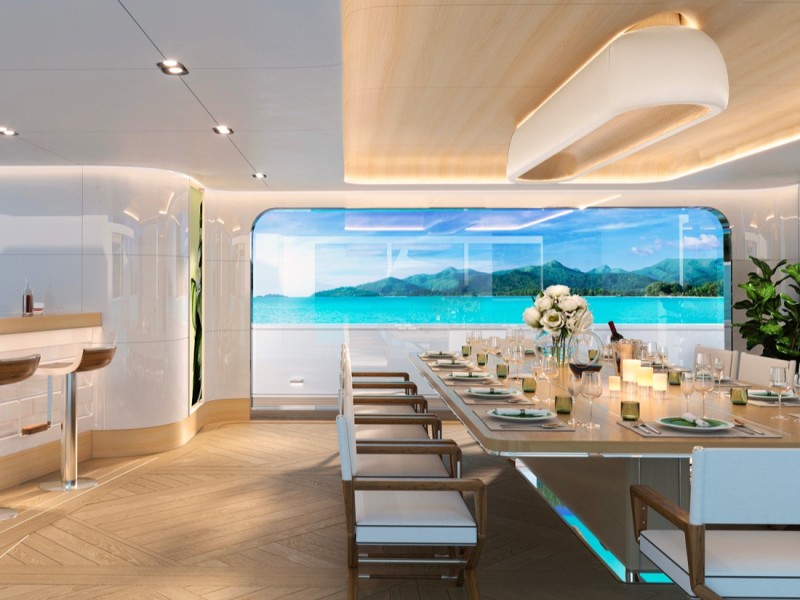 Founded in 1905 and located on the Eider River in Rendsburg, Germany, Nobiskrug is known for building "German superyachts for the 22nd century," although the term did not even exist when the company was established. The manufacturer transitioned to yacht building in 2000 and is now a leader in yacht and superyacht construction. Nobiskrug has delivered more than 800 vessels since its start. The shipyard has made it its mission to "build superyachts that will last for generations", a vision that can be seen clearly in the innovation and quality of its vessels. The best example of this is Nobiskrug's 80-meter superyacht ARTEFACT, built in 2020. A pioneer in her class, she is one of the first to be built under IMO Tier III emissions regulations, with a hybrid electric propulsion system.
Tillberg Design of Sweden is a design firm specializing in cruise ships and yachts, founded by Robert Tillberg in 1964, at the conception of ocean liner KUNGSHOLM. The company is recognized for its "purposeful Scandinavian design that is firmly grounded in history, and with a future-proof timelessness." Earlier this year, Tillberg Design of Sweden established Viken Group to offer a more focused expertise in building and design in the yachting industry. Viken Group has just acquired HotLab, an Italian yacht design and architecture firm, which places Tillberg Design of Sweden in an even more strategic and beneficial standing in terms of Project Lycka.