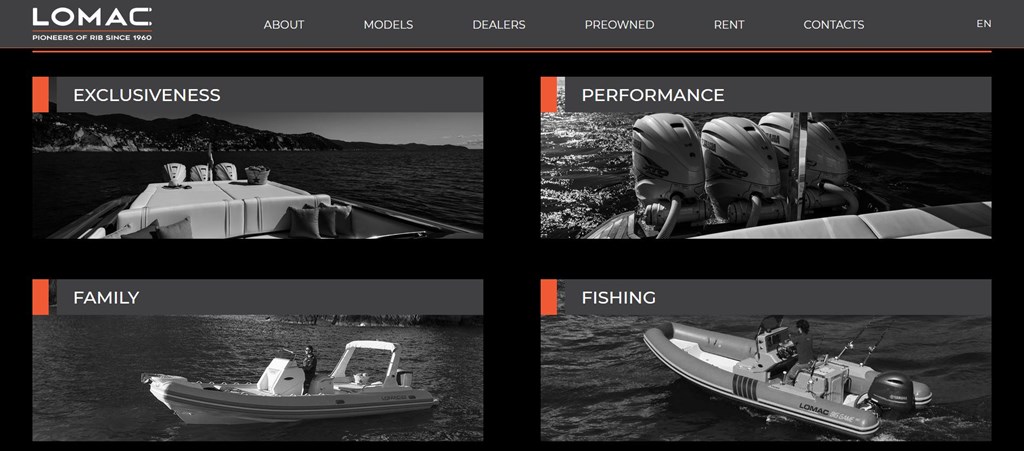 The shipyard that has been producing reinforced inflatable boats for the last 60 years continues its renewal program and launches a brand-new website with updated content. Easy and intuitive navigation, a refined and pared-down design, and comprehensive information about ranges, models and company history are just some of the main features.

Lomac continues working to reposition the brand and renew its visual identity. After the launch of the new logo, the website has been given a full makeover to further increase its focus on the shipyard's broad and varied product range. 

An appealing, pared-down design, reprising the two logo colors, goes hand-in-hand with easy navigation and comprehensive information. Paolo Lo Manto, the company's sales director, commented: "The website is an increasingly fundamental tool to keep in touch with our customers who are spread across Europe. This is why we had the idea of a four-language container that lets every boat lover find the model of their dreams, basing the search on a keyword that best identifies their approach to sailing." The website's original layout, unlike a traditional catalogue, lets users find the best inflatable boat for their needs based on its intended use: for excitement, family fun, fishing or something else. 




Lomac has always offered customers a wide and varied range of products. The Milan-based shipyard produces eight ranges designed for customers of every possible type, from pleasure boat enthusiasts interested in a tender for short trips, to owners in search of a luxury boat with every comfort. Big Game, for example, is the range developed for amateur and professional fishermen, while the Club line consists of boats used for professional purposes. The most recently introduced lines are Adrenalina and GranTurismo, the first of which marked the brand's entry into the world of luxury yachting and launched the partnership with designer Federico Fiorentino. The fil rouge linking all the models is impressive performance in terms of both speed (all models have a top speed of over 50 knots) and seakeeping. GrandTurismo, also designed by Fiorentino and with the same elegant styling as the previous line, has been developed instead for families and features models that achieve a perfect balance between comfort and safety, without neglecting performance.

A special section of the website tells the story of the shipyard's long history in this its 60th anniversary year. It is a story in which tradition and innovation are interwoven with passion for this industry, offering an example of entrepreneurial success for a family-run company that has never been afraid to innovate.