Vasara was built by McConaghy Boats at our shipyard near Sydney, Australia, with naval architecture by Reichel/Pugh and an interior by Design Unlimited.
The owner's brief was for a yacht capable of safely cruising with family in and around the San Francisco Bay, yet one that was able to race competitively in inshore and offshore races along the US west coast.
The Reichel/Pugh studio has nearly 40 years of naval architecture, design, and composite engineering expertise and this, combined with their onboard racing experience, data analysis, and the input of industry-leading partners, made them an obvious choice for the owner and his captain. Like many McConaghy builds, Reichel/Pugh designs have dominated the world's yacht races, continually setting new standards for innovation across classes, and the synergy between their work and the build expertise of McConaghy is evident.
"Between Reichel/Pugh and McConaghy design/build team, we have been responsible for some of the world's most distinctive, rewarding, and enduring performance sailing yachts." – Jim Pugh, President, Reichel/Pugh.
Vasara has been designed and built to ISO Ocean Category A and the offshore Category 1 of the World Sailing Offshore Special Regulations. Reichel/Pugh teamed with Pure Design and Engineering to develop the structural engineering for the design. The design includes many aspects that allow the yacht to effortlessly convert between a comfortable family cruiser to an elite racer. The backstay configuration is a single fixed backstay for cruising, and this can be modified to a split topmast backstay to fit a square-top mainsail for racing. The anchor arm and chain box can also be removed for racing. A dodger can be added for cruising to give protection from the elements, and a bimini awning system provides shade at anchor.
Vasara has a lifting keel with draft up of 2.4m to permit access the owner's harbour and draft down of 4.1m to give exceptional stability under sail.
The exterior design features a low freeboard and coachroof, while achieving comfortable headroom throughout the interior. Aft coamings create a safe and comfortable cockpit, with sail handling controls hidden below decks and in lockers for a clean and safe working deck.
Adhering to carefully calculated weight requirements was key. This carbon yacht was built for performance and McConaghy's experience in this field was essential to the successful outcome.
Design Unlimited were tasked with creating a lightweight, versatile, and dynamic interior that achieved dual purpose, complementing both this yacht's performance edge and providing the ability for comfortable cruising and overnight stays.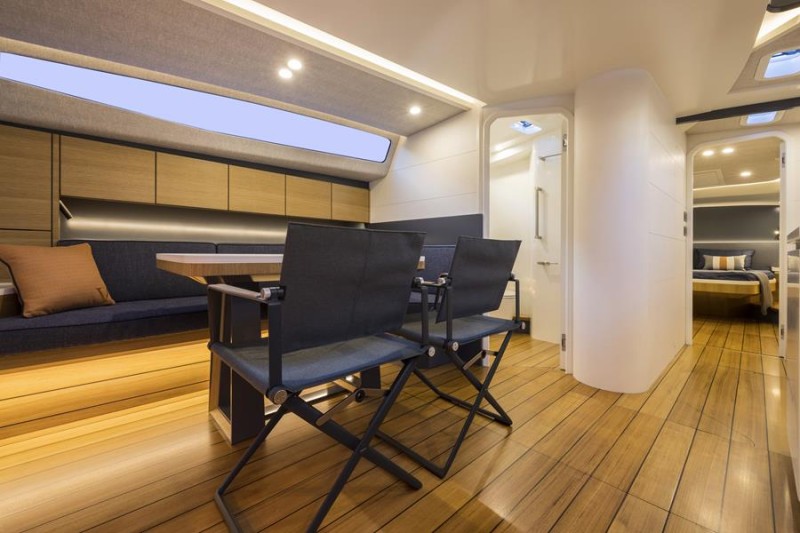 The layout features a master cabin forward, a central saloon with a lounge and dining area to port, and a navigation desk to starboard. The saloon is open plan to the galley, creating a great social arrangement, and enhancing the perception of space. To aft, there are two guest cabins that share a bathroom.
The accommodation has been configured for sailing with friends and family, primarily. When speed takes precedence, however, the two guest cabins can be converted to crew accommodation with fold-down pipe cots.
"The Vasara project was a wonderful opportunity to again work with McConaghy. Reichel/Pugh's first project with McConaghy was the 50′ Abracadabra in 1988, which went on to win two 50′ World Championships. In the interim, McConaghy has built many RP winning designs, including the Maxi 100′ Wild Oats XI – nine-time Line Honours winner of the Rolex Sydney Hobart, and the 100′ Black Jack (formerly Alfa Romeo) – the 2021 Sydney-Hobart Line Honours victor." – Jim Pugh, President, Reichel/Pugh.
"We were thrilled to work with Reichel/Pugh on this high-profile project. We were able to provide a competitive solution and guarantee high quality finishes. Vasara bears all the reliability and strength of structure that is synonymous with the McConaghy name." – Eric Desjardins, McConaghy.