Acquired by her new owner in late 2018, 52-metre Broadwater (ex-Rasselas) was launched by Feadship in 1994 with exterior design by Frits De Voogt and an interior by John Munford. In the following interview, Peter Wilson offers insight into her major refit currently underway at Huisfit, Royal Huisman's refit and repair division in the Netherlands, which is due for completion in Spring 2020.

There are actually two yachts called Broadwater, both built by Feadship and owned by the same owner.

Yes, the owner has a penchant for classic Feadships and for refits, which can be a bit confusing I agree! His other Feadship, which is currently for sale, is a 50-metre yacht launched by Feadship in 2000 as Bluemoon with interior design by Donald Starkey. At his behest, it also underwent an extensive refit in 2017 when the interior was restyled by Adam Vorhees, so there is a connection, but they are two completely different yachts.




What is the scope of the refit work being carried out?

The experienced owner wanted to convert his yacht into a "modern and liveable home away from home" with charter capability. It ranges from a complete refresh of the interior design and exterior work to technical upgrades that bring the yacht into line with the latest classification regulations for commercial use.




Let's start with the exterior: where are the principle modifications being made?

A big change is the 4-metre (13-foot) extension of the hull and reshaping of the transom to expand the aft deck and beach club. The sundeck has been completely reworked by adding a new and larger hot tub, a bar area and day head that weren't there before, and a new composite mast and hardtop and antenna mast being made by Rondal, Royal Husiman's sister company, complete with integrated lighting and audio speakers. We're also replacing the teak decking throughout and repainting the whole yacht in a new Flag blue and white colour scheme.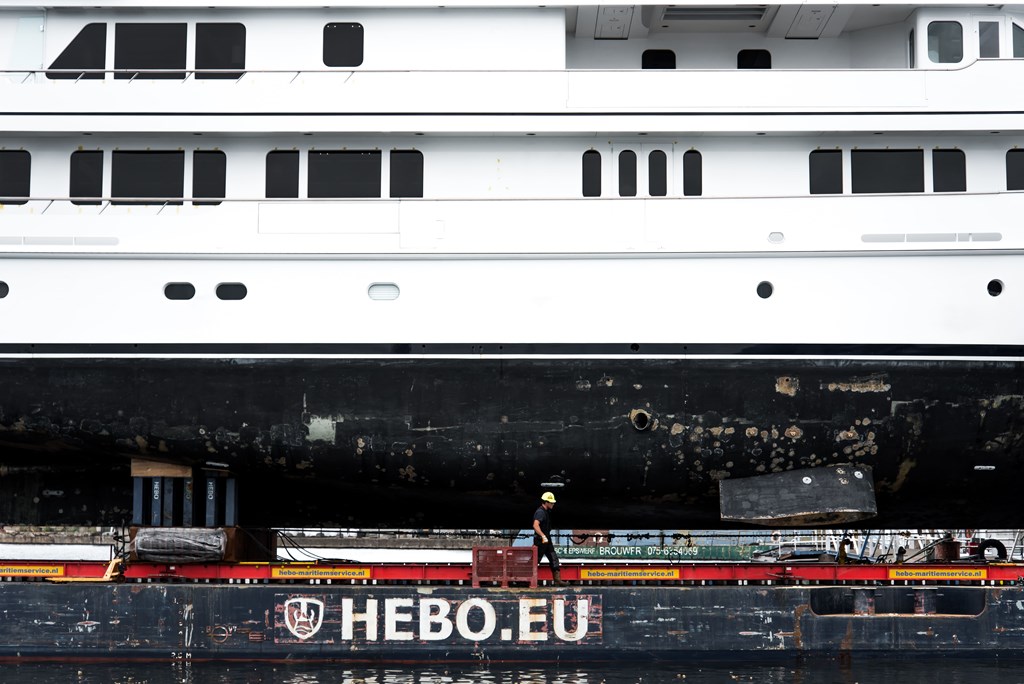 And the interior?

The owner and guest areas have been completely restyled by Adam Vorhees. The previous interior by John Munford had a very English gentleman's club feel to it with a lot of dark joinery. After the refit the interior will be much more contemporary using new materials from brushed European oak, open grain black walnut and fumed eucalyptus to richly patinated bronze and textured Serpeggiante and Portoro stone. Tactile cashmeres, silks, wools, leathers and linens in closely curated palettes all impart an ambience of quiet serenity and intimacy. The provenance and heritage of the original architecture is respected, but has been desaturated and toned down to serve as a hushed, elegant backdrop against bespoke furnishings and notable artworks. The layout of master stateroom on the forward main deck has also been modified to create a His and Hers bathroom separated by a huge glass shower stall, and LED lighting will be installed throughout the yacht.




What about the technical challenges associated with commercial classification?

These have been significant and discussions with Flag (Jamaica) and Class (Lloyds) have been quite intense as we figure out ways to make a yacht that was built a quarter of a century ago, before any Large Yacht Code even existed, meet modern commercial standards without tearing it completely apart. Obviously, she was built to an extremely high standard and has been operating safely for a quarter of a century already. The main measures have been installing a Water Mist fire-fighting system and upgrading fire boundaries where necessary.

We're also required to add a large emergency generator powerful enough to drive the Water Mist system and other emergency services/equipment, which will be housed in a technical area in the new transom.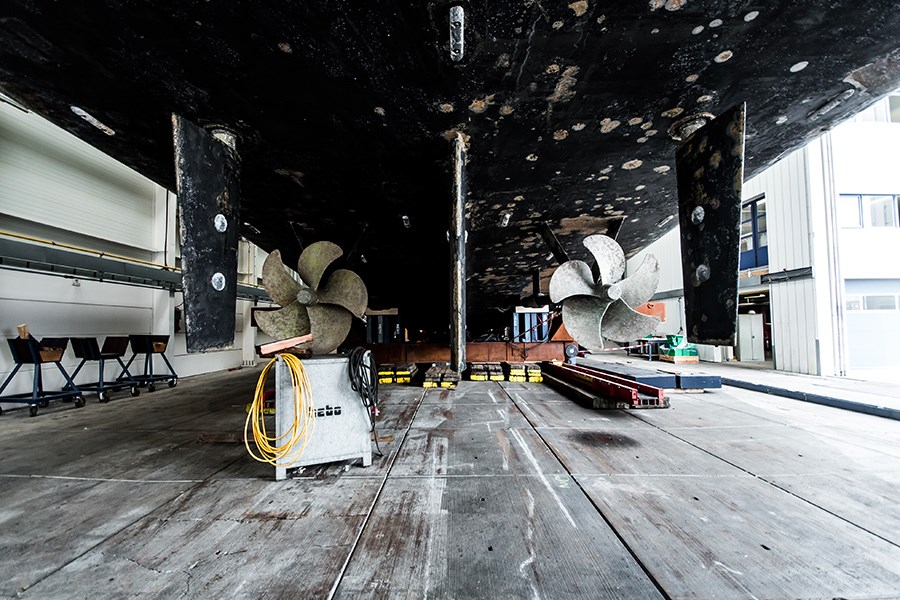 What other areas are being covered by the refit?

A complete replacement/upgrade of the  navigation and communication package is being supplied by RH Marine in Rotterdam and a high quality A/V system by Yacht Intelligence in the UK. I should add that the owner chose Huisfit after being impressed by their quality work, efficient scheduling during the yacht's Lloyd's inspection in the spring of 2019 and the commercial arrangement made sesne. In fact, the owner has been intimately involved with the redesign, working closely with Adam Vorhees and making regular visits to the Huisfit facility just outside Amsterdam to monitor progress and enjoy the process.

We look forward to the "big reveal" early 2020…