Nauta feels that the honest design is based on simple lines: we don't like to overdo surfaces or interiors; from our point of view a yacht should be a simple and natural unit where emotions, experiences and life stories are created. Where indoors and out are united without fuss. Where nothing gets in the way of the beauty that is around us.

Simplicity helps us to concentrate on experiencing the yacht and the natural environment around it. Our design goal is to create yachts that are both timeless and future-proof: simple, elegant and beautiful now, created looking towards tomorrow.    
 

Nauta 78m Slipstream  

The Nauta 78m Slipstream is a new superyacht concept , which includes all the main design features and the philosophy of our studio: light-filled and airy interiors, seamless and harmonious inside/outside connection , breath-taking views from both inside and out, and close contact with the water. 
The project has been developed to a deep level of design and engineering so as to be used for construction bidding purposes.

[[BODY:20]]

The Island: patent pending design of Beach club with multiple fold-down platforms
Private owner's deck 
2 VIP suites with balcony
Diesel-electric propulsion
Nemo lounge in beach club
Infinity nest on forward Owner's deck
Lift through all decks

The exterior styling reflects Nauta's trademark preference for clean, uncluttered design devoid of fussy or superfluous detailing. Visual lightness, seamless openings to the surrounding environment, predominantly horizontal lines, long overhangs and the extensive use of glass gently inclined from the vertical, highlight the balanced, low-rise proportions.




The expansive Beach Club is a very spectacular area, in direct connection with the surrounding environment through the glazed transom door and the side (port and starboard) opening terraces, also enriched by a large bar and a 'Nemo' lounge, provided with a glass that descends below the waterline.   

Guests can walk to the outdoor area of the Beach Club through the aft door or through the side terraces which opens to port and starboard to form a walkway which runs all around the stern.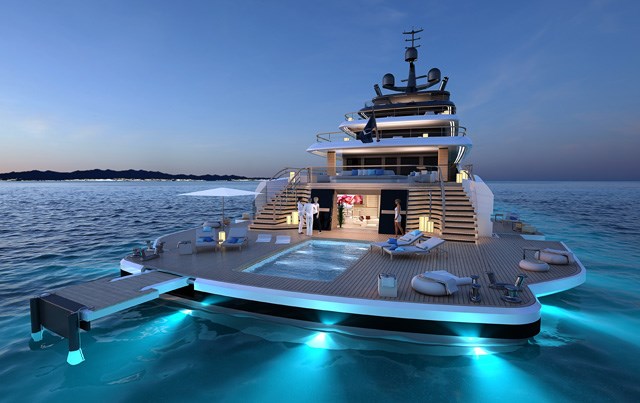 A real innovation is the patent-pending system for part of the above mentioned walkway and the fold-down bulwarks, which can transform the sea level aft deck into 280 sq. m., 270° view spectacular terrace: a new innovative concept which we have called "the Island". 

Integrated into the stern platform is a sea-water swimming pool that is ideal for children or guests who seek sheltered alternatives to open-water bathing. The pool design features a hydraulic mechanism for raising the teak bottom that closes flush with the deck when the pool is not in use.

The upper deck is dedicated to the owner's accommodation. With direct access to the helipad and private foredeck (including a jacuzzi pool and a protected 'infinity nest' in the extreme bow), the master suite, a very large space including the king size bed and a comfortable private saloon, is wrapped in full-height glass windows on three sides.
Propulsion is diesel-electric with fixed drive shafts, providing a top speed of 17 knots and a range at economical speed in excess of 5,000nm.   





Nauta 78m Slipstream – Main Characteristic Sheet  

Gross Tonnage:    1975 GRT
L.O.A.:    78.40m
L.W.L.:    76.65m
Beam Max:    13.00m
Draft:    3.50m
Construction Material:    Hull in high strength steel, decks in alloy
Accommodation for Owner, VIP and guests:    12
Accommodation for Captain, Crew and Staff:    23
VIP Suites:    2
Guest Suites:    2+1
Interior Luxury Areas:    734 sq.m.
External Furnished Spaces:    626 sq.m.
Diesel Generators:    4 x 1081 kW + 2 x 500 kW
Propellers:    2 x FPP
Maximum Speed:    17 kn
Cruising Speed:    16 kn
Range:    >5000 nm @ 12 kn
Thusters:    1 x 350 kW
Stabilizers:    2 pairs, underway and zero-speed

Touch & Go Helipad 
1 x Limousine tender 10m 
1 x fast RIB 9m 
2 x rescue tenders 
2 x Seascape sailing boats 14' + 2 x Jetskis 
Seabobs, kayaks, bikes, quad, kite surfs, windsurfs, etc.