Involved in the design of highly innovative racing multihulls since 1980 and, since 2001, in the brokerage of luxury catamarans, yachts and motoryachts, sailor Marc Pajot, Olympic medallist, winner of the 1982 Route du Rhum and twice semi-finalist in the America's Cup, is presenting a radically innovative superyacht catamaran project.
Resulting from the collaboration of a team of specialists, the Pajot Custom yachts 110′ catamaran is a combination of new and coordinated concepts. The innovations coupled with proven solutions allow this multihull platform to achieve all the functions and attributes of a superyacht.


The assembly of the hull structure and the aluminium nacelle, the composite coachroof and flybridge superstructures and the carbon rig, embellished with these new design features, create a combination unprecedented on the market. First-class seakeeping, ease of handling and use with luxurious comfort are harmoniously combined on this catamaran. The calibration of the main structural and propulsion elements is predetermined to create perfect uniformity. The fittings and the interior style are "custom" and can be adapted to be exclusive and correspond to the owner's personality.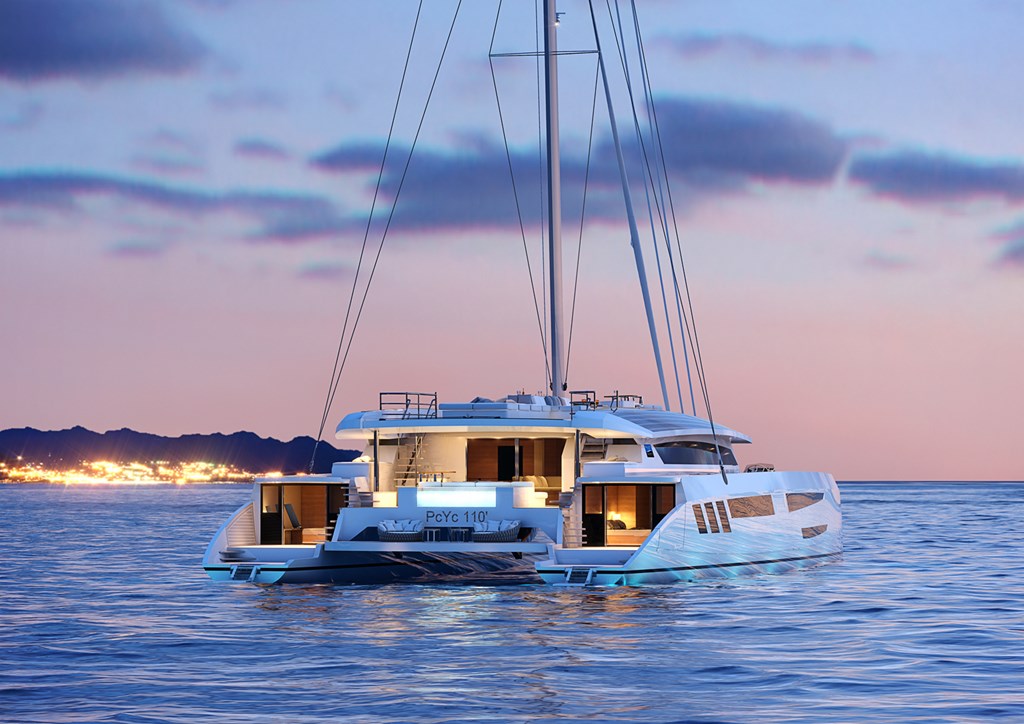 Layouts and 3D rendering confer this idea of comfort and performance, with the unique feature of two very beautiful aft VIP cabins, giving access to a large Beach club.

Six major features and qualities are brought together in the "Eco Yacht" project philosophy, incorporating engineering with art, to achieve the ultimate pleasure on the water, whether for private use or charter.

1 – Economical and environmentally friendly hybrid operation:
    Low drag of catamaran hulls
    Simple and efficient sail propulsion
    Unnoisy, hybrid propulsion by electric motors and sails
    Service power supplied by hydrodynamic generators 
    Service power supplied by a large solar panels area of 70 m² (752 sq ft)
    Long-range diesel-electric propulsion energy
    Electric energy storage for night-time autonomy at anchor
    Zero CO2 emissions coastal sailing over 30 nautical miles

2 – Versatile sailing performance allowing:
    High average speeds under sail and sensations even in light airs
    Safe and stable passage through big seas and strong weather conditions
    Stress-free access to shoal draft areas and shallower port areas
    Extremely simple and economical storage ashore and chocking

3 – Simplicity of use and efficiency of control under sail:
    A simple and reliable carbon rig with the focus on safety, based on 40 years of yachting experience 
    A sail plan with lines designed to be handled quickly and serenely with a boomless square-topped mainsail and headsails on furlers
    Automated deck hardware for fingertip manoeuvres with a short-handed crew 
    Advanced helm stations equipped with controls for perfect steering control and watchkeeping, increased pleasure at the helm, and the privacy of the guests
    An interior navigation and monitoring station


4 – Spacious and intimate outdoor areas:
    Reception, relaxation and dining areas, forward, aft and on the flybridge, of more than 200 m² (2,150 sq ft)
    Convivial areas and also small, more intimate spaces
    Manoeuvring areas for the crew clearly separated from those of the guests
    Beach club sugarscoops never seen before on a catamaran

5 – A tailor-made interior:
    A living space of more than 200 m² (2,150 sq ft) adaptable according to the wishes and desires of the owner in the spirit of a "Custom Yacht"
    Aft VIP cabins with private terraces or Beach club
    A large master cabin of 22 m² (234 sq ft) on the main deck with private exterior access
    Spacious and totally independent galley and crew quarters




6 – A team of talented, supporting professionals:
    Marc Pajot, a determined leader in the achievement of projects, successfully engaged since his childhood in high-level yachting and experienced in team management. He has designed and developed the boats with which he has shone in the transatlantic fully-crewed and single-handed races such as Elf Aquitaine, and the America's Cup French Kiss and Ville de Paris. As part of his brokerage activity, he has also been Project Manager for successful boats such as the Wally 100, Tango.
    Nicolas Fauroux, an engineer at the forefront of naval architecture for 40 years. He has made his mark in the world of sailing superyachts, notably with Vaimiti, a 40-metre aluminium sloop, the refit of many classic sailing boats such as Mariska, of the beautiful 15-Metre class. His multiple talents are equalled only by his passion for sailing.
    Franck de Rivoyre and Christophe Larose, structural and rigging engineers who have participated in some of the greatest round the world records on multihulls, with Foncia and Groupama. They have been involved in the multihull yachting industry since its beginnings, and have contributed to the advent of the catamaran as a platform for superyachting. 80% of catamarans over 18 metres have passed through their firm.
Several shipyards with a strong international reputation are currently being consulted.

"No more heavy, complicated, fuel-consuming and noisy yachts. Catamaran hulls with a low hydrodynamic drag, a simple and efficient sail system, a large source of solar and hydraulic energy associated with hybrid electric propulsion bring technology to the service of ecology.     
Birth of a real E yacht. "

Marc Pajot

Technical specifications
Overall length:         33.50 m (109'90")
Hull length:             32.10 m (105'31")
Maximum beam:         14.12 m (46'40")
Draft:                 2.00/4.50 m (6'56"/14'90") 
Laden displacement:     105 t (231485.38 ib)
Upwind sail area:         422 m² (4,540 sq ft)
Guests:             12
Crew:                 4-6