Following the success of its inaugural 100% solar powered marina and residence resort in Exuma, the Bahamas, Silent-Resorts is finalising the location of its second luxury resort in the picture-perfect island nation of Fiji.
Silent-Resorts is the exclusive partner of Silent-Yachys, the Austrian company that produces innovative solar electric catamarans. With its construction now well underway and scheduled for completion in early 2024, the Bahamas was selected as the location for the first tropical resort, with the Silent 55 chosen to be the inaugural promotional yacht.
This second brand new Silent-Resort will be situated on a stunning private-island sanctuary in the Fijian archipelago and offers a zero-carbon, radically sustainable private escape nestled in the jungle hillsides and white sand beaches lined with a stunning coral reef.
On offer will be 28 four-, five or six-bedroom Silent Estate Residences, 14 two-bedroom Silent Marina Residences and 10 two-bedroom Silent Beach Club Residences, alongside exclusive access to a fleet of solar-electric powered tenders, speed boats and catamarans to help guests explore Fiji's incredible natural surroundings.
Alongside professionally managing all of its boats and residences 365 days a year for added peace of mind, there is also the option to have Silent-Resorts manage the owners' residences for income if desired. Everyone who purchases at Silent Resorts Fiji has the unique opportunity to obtain Fijian Residency, allowing them to stay as long as they want in this South Pacific paradise.
With 24 highly sought-after founding memberships currently available, there are two ownership models on offer: co-ownership and whole ownership of the Silent Estate Residences. Both options offer access to abundant, flexible, and carefree adventures on both land and sea throughout the year, with attentive and personal 24/7 service from the island's team of dedicated staff.
In addition to the luxurious beachfront and marina village solar-powered residences, amenities on offer include an owners' clubhouse beach bar/restaurant and a health and wellness centre, as well as exclusive access to Fiji's first solar-powered Silent Marina, dedicated to electric boats only, the private Beach Club, and adjoining wellness retreat.
Victor Barrett, Head of Silent-Resorts, says: "After considering numerous possible locations, we are delighted to be finalising the approval process for our latest location in Fiji. When we officially announce the location in the next month or so, we will also offer exclusive stays at the existing facilities for those interested in learning more firsthand about Silent Resorts Fiji. With its beautiful, untouched natural surroundings on both land and sea, and the incredible and welcoming hospitality of the Fijian people, this is the perfect base for us to create our next 100% solar-powered luxury adventure destination, what we like to call "radical sustainability". Through our innovative ownership options, our mission is to make island residence and luxury yacht ownership more affordable and accessible."
Michael Köhler, founder and CEO of Silent-Yachts, comments: "Our ongoing collaboration with Silent-Resorts represents the perfect match for our owners, who are looking to explore and enjoy the most beautiful, pristine areas on the planet in a thoughtful and sustainable manner."
He continues, "Owners at Silent-Resorts can explore the stunning natural surroundings on board the world's first fully solar-powered yachts, which are seamlessly integrated with the resorts' pre-engineered, modular, low-impact land-based infrastructure. In short, we are offering the ultimate Fijian escape to our owners, where the most difficult question they will ever have to answer is: 'When do we want to go back to our private island paradise?'"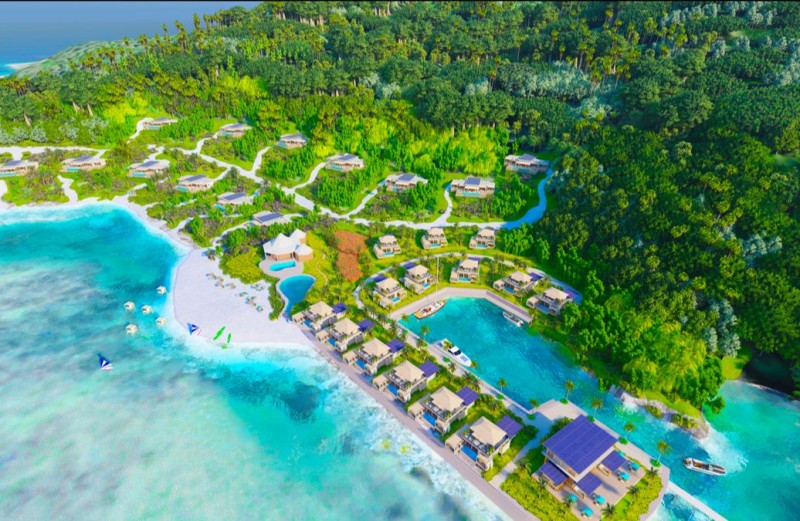 Construction is set to begin on Silent Resort Fiji's marina and beach club by the end of 2023 and work on the Bahamas island is currently progressing rapidly. The first Silent Marina is now completed and is home to the first Silent 55, which is ready for use by guests.
With the villas expected to commence construction later this month, and assembly to begin in July, the first 4-bedroom solar residences will be built on the Bahamas island by the end of this year. By early 2024, the Bahamas resort is expected to be fully completed, at which point it will acquire another yacht for use by guests: the Silent 62 Tri-Deck.