Sirena Yachts launched the first Sirena 88 last June in Turkey. The brand new model, its largest project to date at 26.81 metres in length overall with accommodation for up to 10 guests, now making her international debut in Cannes.

"Today, we have come to this amazing achievement by making mistakes but learning from them, struggling a lot and developing by consequence" said İpek Kıraç CEO at Sirena Marine. "Every manager describes his own business as a team work however ours is a family work. We brought up those brands at the same time by growing up with them. We filled in our positions with the efforts of our years.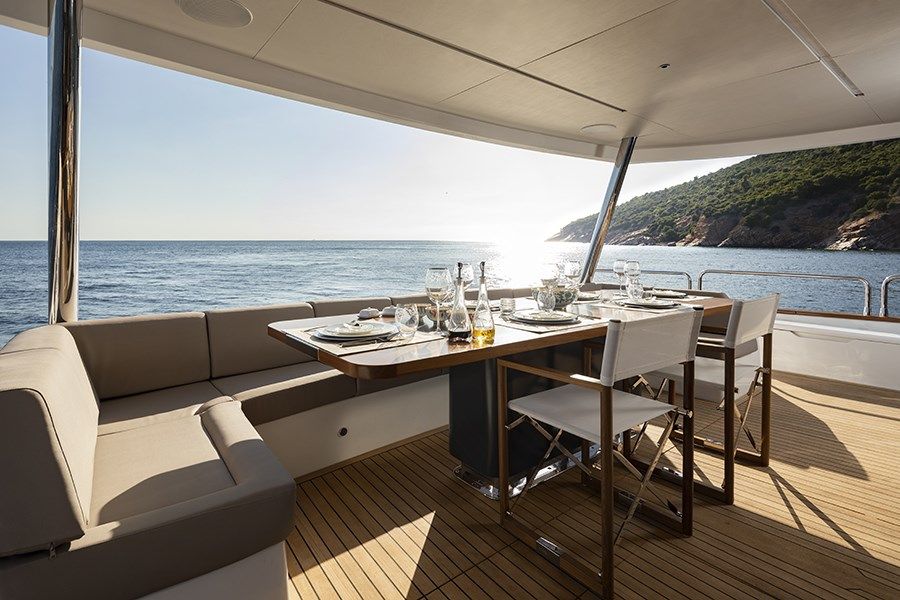 Today, our finance manager, project manager, factory manager, marketing manager, sales manager, everyone in this team came to this high level starting from the lowest. As you may understand, they didn't work for us but with us. They worked as if it is their own company, their own child. Every morning, they didn't wake up to come to work but they woke up to develop their brand. I know all the sacrifices we've made, all those sleepless nights we had in other words I know very well in which conditions we brought this company to this point. I am proud of working with you. That what makes Sirena Marine different; our love, our soul and our team… Here I would like to thank warmly all the members and the designers of Sirena family"




Naval architecture and exterior design by German Frers 

The advanced naval architecture by German Frers is enhanced by high-tech resin infusion construction and generous use of carbon fibre to reduce weight and optimise the vertical and longitudinal centres of gravity. The Sirena 88 performs at both planing and displacement speeds comfortably and economically. Following extensive sea trials, she has a range of 2,100 nautical miles at 9 knots.

"The hull shape developed during the tank testing program for the Sirena line of motor yachts it is rather unique, being efficient in a wide range of boat speeds and behaving well at both slow speed as well as at planing speed," says German Frers.

The Sirena 88 has a prodigious volume in a raised pilothouse design and features a five-stateroom layout with a main-deck master with panoramic views. The master suite has a sitting area to port along with a fold-out balcony. 




"The extraordinary interior volume for a yacht of this size it is also unusual", continues Frers. "The exterior lines talk of a practical, rugged, seagoing expedition vessels with generous interior light and sea views from the interior, ample deck spaces and corridors. These features have been included on all Sirena models, while maintaining an original family resemblance."

Interior design by Cor D. Rover

The interior of the Sirena 88 by Dutch designer Cor D Rover is based on a warm and inviting atmosphere that makes you feel at home, but also provides an exclusive feeling of relaxed enjoyment with top-end materials, luxurious fabrics and soft carpets in natural tones with accents of bright colours. Besides the expertly made in-house and custom furniture, well known interior brands include Minotti, Tribu, Turnstyle, Hérmes, Loro Piana and Dornbracht, 

"Combined with the stainless steel detailing, reflective surfaces and off-white, hand-stitched leather, the grey oak in the design gives the interior a high-quality, contempo-rary look without being cold," says Cor D Rover. "Comfort, style and attention to detail are achieved with excellence and craftsmanship behind the design elements." 

The layout can be varied according to individual client's needs, but the standard accommodation features 5 staterooms with the full-beam owner's stateroom on the forward main deck, a full beam VIP suite amidships on the lower deck, and another VIP in the forward section with a very interesting skylight feature on both sides. Two ensuite guest staterooms with twin beds complete the total of 10 guest beds.

[[BODY:50]]

A crew area insulates the guest accommodations from the engine space, and provides up to four crew with a private sitting room and two cabins.

"The yard offers the flexibility to turn any cabin into whatever the client dreams of, from gym to cinema or karaoke room to wellness spa," says Cor D Rover. "One of the most in-novative features is surely the direct access from the master stateroom to the private foredeck dipping pool and sunbathing area. Not only is there physical access, but there also a visual connection with views from the owner's bed onto the pool water."

The yacht's raised pilothouse provides excellent sightlines for navigation while taking the business of operating the yacht out of the main-deck areas to allow for a relaxing guest experience. 

The main-deck social area has a large formal dining table with seating for ten, served by a nearby galley. Facing U-shaped and straight settees aft provide a gathering spot for guests and another dining area stretches across the sheltered aft desk. Port and starboard stairs lead down to the swim platform the swim platform, served by a striking beach club built into the transom.

The flying bridge is a social space all of its own. The upper helm is located forward to starboard and a bar serves another formal dining table, while aft groupings of settees surround large cocktail tables. A whirlpool spa tub is nearby.

The foredeck social area is protected from the wind and ensures privacy with high bulwarks, while a dipping pool is flanked by sunpads to either side.

"The Sirena 88 is very much an evolution of the Sirena 58 and 64, " says Tanil Surmeli, product manager for Sirena Yachts. "We wanted to keep our brand promises in all our models with big volumes, high efficiency and speed. We see the 88 as a step into the superyacht market, so we increased our methodology accordingly. You will see many solutions that usually appear on 30-metre-plus yachts. For example, we provide superior sound insulation that I believe can easily achieve Comfort Class certifi-cation."