Sunreef Yachts looks back at an extremely busy and successful edition of the Cannes Yachting Festival. This outstanding marine event gathered nearly 600 exhibitors and 54 400 visitors from all over the world for an amazing yachting showcase held against the magnificent backdrop of the French Riviera. With a strong team presence in both the Port Canto and Vieux Port, Sunreef Yachts enjoyed a show of inspiring meetings and commercial success, crowned with a prestigious award.
The shipyard's all-electric sustainable Sunreef 80 Eco officially premiered in the Port Canto, on display along with the luxury sail yachts Sunreef 70 Still Alive and Sunreef 60 Alandi One. In the motoryacht part of the festival, the 80 Sunreef Power Kokomo turned out to be one of the show stoppers.
The shipyard's sales team concluded not less than eight build contracts, including two Sunreef 60 Eco, two 80 Sunreef Power Eco, one 60 Sunreef Power Eco and three Sunreef 60 sail catamarans.
Twenty years ago, Sunreef Yachts sparked a change in the industry by introducing a new kind of yacht – a luxury catamaran. Today, the innovation continues as the shipyard navigates multihull yachts towards new levels of sustainability, safety, beauty and luxury. The growing demand for electric yachts that we have noticed over the Cannes show gives us the energy to move forward in the right direction. The one of responsible yachting.
On September 7, the Sunreef 80 Eco welcomed press representatives from across the globe for Sunreef Yachts' press breakfast and briefing with Fernando Alonso. During the event, the two-time Formula 1 world champion and future owner of the Sunreef 60 Eco shared his vision of electric yachting. The Sunreef Yachts team also seized the opportunity to present the first renders of a new electric motoryacht model.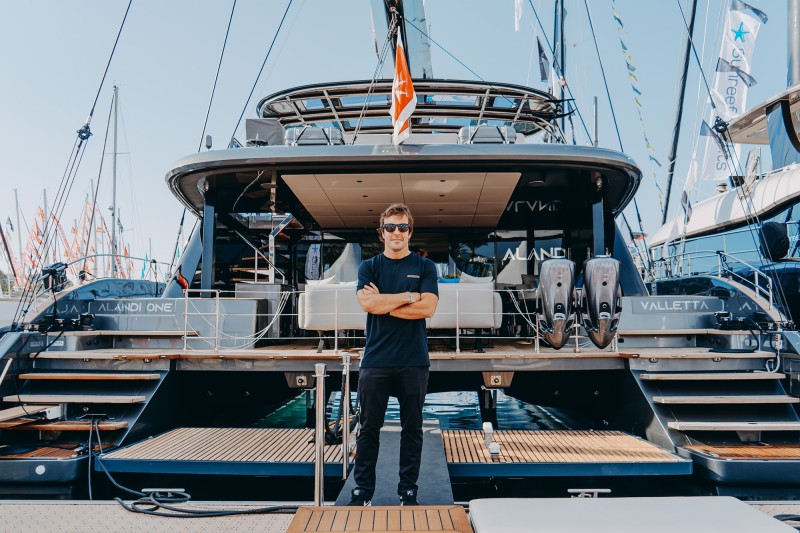 On September 10, the 100 Sunreef Power was elected as Best Power Driven Catamaran at the prestigious World Yachts Trophies gala. One of the industry's most renowned awards ceremonies, the World Yachts Trophies gathered over 700 guests on the beach of the International Carlton Cannes for a unique night celebrating the world's finest yachts.
By the end of the Cannes Yachting Festival, company founder and president Francis Lapp met H.H Sheikh Maktoum Hasher Maktoum Al Maktoum, member of Dubai's ruling family to discuss his plans of expansion in the United Arab Emirates.