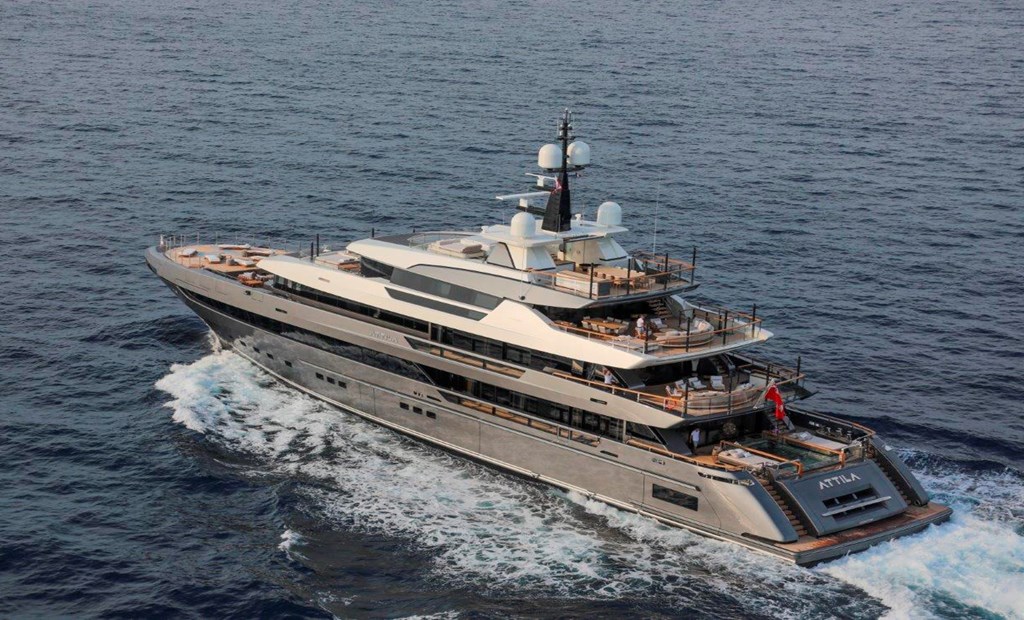 From 25 to 28 September Sanlorenzo, one of the world's leading producers of yachts and superyachts, will attend the Monaco Yacht Show 2019, the fair dedicated to boats over 30 meters in length, with two models of the fleet including its most prestigious and imposing flagship, the new 64Steel Attila.

At 1,600 gross tons, 64 meters of length, five decks and an internal maximum width of 12.5 meters, 64Steel Attila is the largest yacht that Sanlorenzo has produced so far.

An innovative proposal thanks to a layout and structures usually present on larger yachts that have allowed Sanlorenzo to introduce innovative solutions designed to maximize onboard livability, with elegant exterior lines.

The Main Deck at the stern and the Beach Club on the Lower Deck surely represent the most distinctive areas of the project. A strong hallmark of design and layout is the double stairway that connects the pool and dining area to the Beach Club equipped with a sauna, hammam, massage room, and gym, right at the waterline. With the bow mirror and the side platforms open, the Beach Club covers an area of 78 square meters.

The indisputable Flagship of Sanlorenzo's superyachts "Steel" line with a fast displacement hull, the 64Steel offers various stylistic features that distinguish the prototype/design from other boats of the same size:

the ability to reserve an entire deck to the ship owner, the Owner Deck, which includes the bedroom facing the bow, which has a large whirlpool bath on the outside;

the ability to load two big tenders of over 10 meters in length which can also be limousine tenders, thanks to the garage's height, as found in yachts over 80 meters long.

the maximum internal beam is 12.5 meters large, also typical of a yacht over 70 meters long;

the helipad for touch and go, at the bow, which can be turned into an extraordinary solarium when not in use.

the 64Steel platform was designed to be extended from 64 to 70 meters to satisfy varying requests.
 

"Yachts come to life from ideas. These are the ones that gave birth to Attila, our 64 meter yacht, our flagship." Antonio Santella

Sanlorenzo channels the best of its experience, craftsmanship and innovation into the creation of superyachts, a category that offers yachtsmen the most authentic sense of seagoing adventure, with large and variegated on-board spaces and technologies of the latest generation for outstanding range and independence.

The division for the production of superyachts, metal boats from 40 to 68 meters in length, launched in 2007, has its headquarters in La Spezia. The remarkable results it has achieved have recently made it necessary to acquire an impressive production site of over 50,000 square meters, entirely set aside for the design and construction of "over-sized" models.