Today was a day of thrilling match races at the Southern Wind Rendezvous and Trophy, both between yachts in the SW fleet and between SW yachts and others racing in the Performance Class at the Loro Piana Superyacht Regatta. Grande Orazio finished second in the Performance Class on corrected time after a race-long battle with her sister ship Ammonite and Kiboko Tres kept everyone on the edge of their seats during a tacking battle with Ribelle.
 
With slightly overcast skies and winds at about 12 knots, at the time of leaving the docks it looked like it would be an ordinary day on the water. But skilful crews and speedy boats quickly turned the racing into a series of suspenseful battles that were waged right down to the last tack.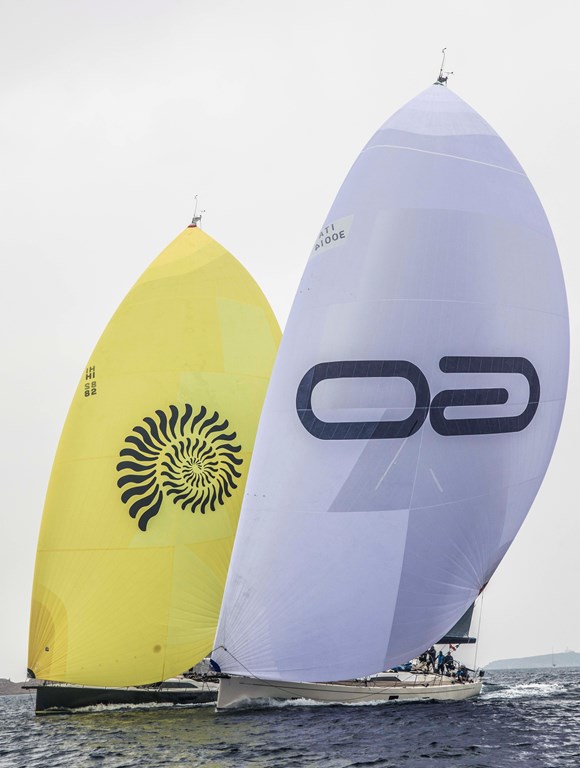 SW82 Grande Orazio's result's were grandissimi as she placed in front of most of the top racers in this fleet. "We got great and even unexpected results especially considering that during the race we had a technical problem with our headfoil and were considering withdrawing," said owner/helmsman Massimiliano Florio. "We had a quick discussion about it and decided to forge ahead. After that we got everything right, the tactician and navigator made the right calls and I'm really happy with the crew: we're a closely knit group that I really enjoy sailing with."




SW105 Kiboko Tres, making her regatta debut at this event, also had an intense match race with the high profile 33m Vitters racer Ribelle and came out the winner.
Back at the dock her owner/ helmsman Juan Ignacio Entrecanales was elated. "This is the first day at this event where we didn't make any mistakes and after our debut both our performance and our results have been getting better and better. We finished ninth in the Performance Class fleet on day one, then seventh and now fourth. The boat is sailing well and is very fast. We had a lot of fun coming through the final straight between Isola delle Bisce and Liscia di Vacca, match racing with Ribelle. We were short tacking maybe twenty times back and forth and I really enjoyed it. We did a fantastic final manoeuvre and there you have it: a Corinthian sailor like me managed to beat a professional skipper and AC champion like Francesco de Angelis."




Entrecanales is not only a winning SW owner, he is also one of the new shareholders who is prominent in the shipyard's future as he proudly stated in his opening welcome at the SWS Official Dinner yesterday evening. 

Another reason for excitement is the 90' catamaran project that Southern Wind announced. Penned by Berret Racoupeau Yachts Design with Nauta Design interiors, deck and superstructure, this project is currently under development but is an investment that SW has made to bring their experience in 100' builds to a new market, designed to meet increasing demand for a cat that combines the performance, luxury and blue water potential of a sailing superyacht with the comfort and volume of a power yacht.

Tomorrow is the final day of racing and Grande Orazio, winner of the SWS Trophy in 2014, is currently in the lead, trailed by Kiboko Tres by just two points. Stay tuned.