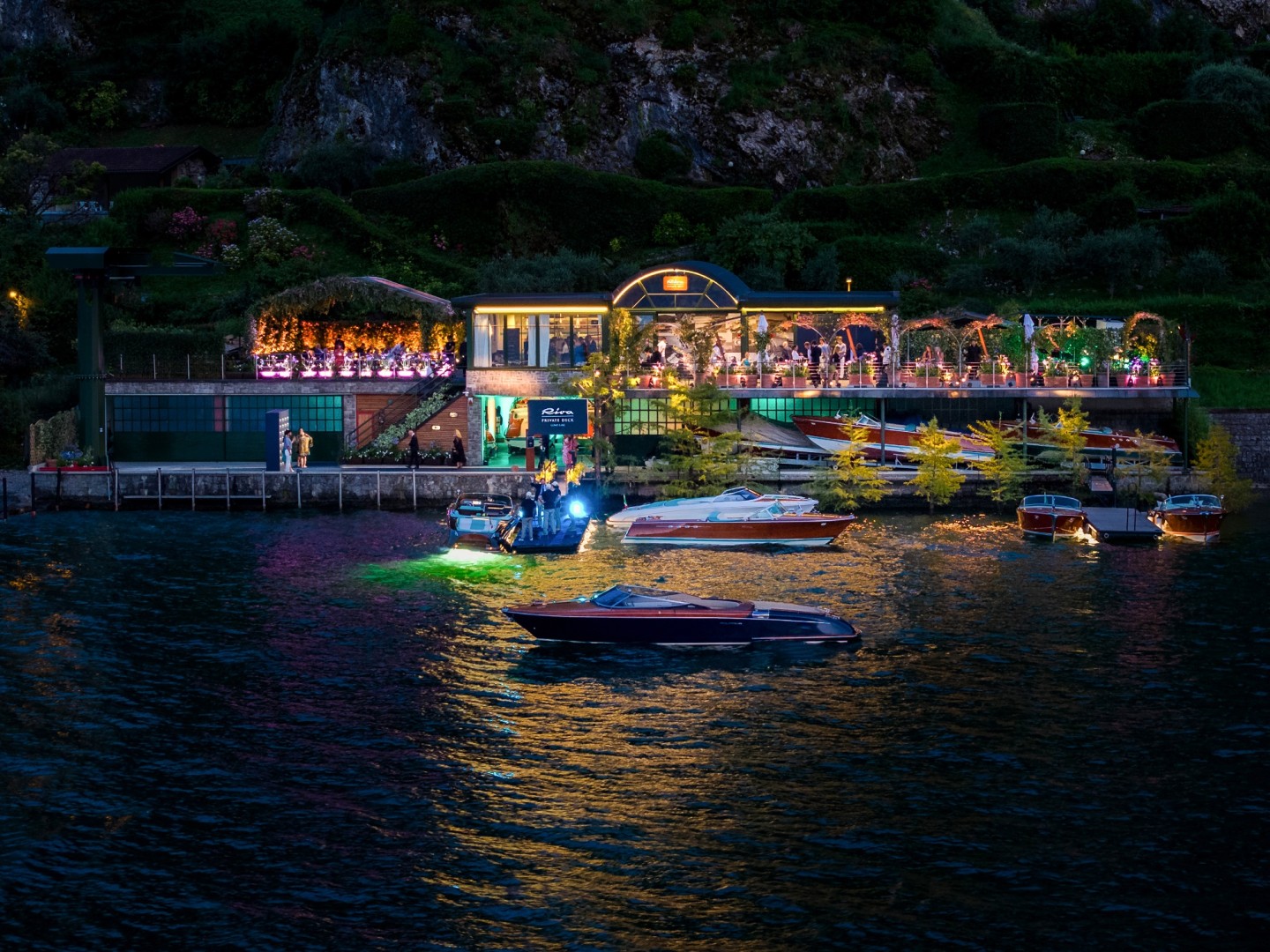 When you enter a Riva Destination you savour the timeless appeal of this legendary brand, immersed in the decor and surrounded by the wood featured for over 180 years on the world's most famous boats.
This is the unique experience offered by these amazing locations designed to reflect the signature style of Riva yachts. All situated in dream destinations such as Venice, Monte Carlo, Paris, Mykonos, Opatija and Palm Beach, they are joined today by an exclusive new Riva Private Deck on Lake Como, renowned destination of the international jet set.
Officially opened with a spectacular display of water skiing and acrobatic wakeboarding, followed by an elegant parade of the most beautiful Riva boats of all eras, the new Private Deck is located in Lèzzeno, just a few kilometres from Bellagio, inside the historic Yacht Club Eriolario. Set against the magnificent backdrop of the eastern bank of the lake's Como branch, this is the first Private Deck launched by Riva in Italy and the second in the world, joining the gorgeous Private Deck at Nammos Beach on the island of Mykonos.
Like all Riva Destinations, the exclusive new Private Deck on Lake Como has a supremely elegant design. From its refined style to instantly recognisable detailing, such as the chrome-plating and mahogany, every feature immediately conjures up the iconic yachts of an unforgettable golden age. All the furniture and furnishings – including the Aquarama tables and chairs, the famous cushions with aquamarine detailing, and the iconic Aquariva lamp – form part of the high-end Riva Brand Experience collection, featuring pieces that are the ultimate expression of the expert craftsmanship and timeless appeal embodied by the Riva brand.
The new Riva Private Deck on Lake Como will be an elite hub for owners, offering exclusive services and a place where they can relax and soak up the Riva atmosphere. Several Riva yachts will also be available for hire to explore Lake Como.