Is it a monohull motorboat or a catamaran? An exceptional new custom build by Holterman Yachts in the Netherlands, Lady Fleur is both… And a great deal more besides. Now making her public debut at the Cannes Yachting Festival (stand SYE246), this genuinely revolutionary 105-footer has rewritten the superyacht rule book in her size and become launch model for the new X-treme range. 
Delivered earlier this summer to her delighted owners, Lady Fleur has caused many an onlooker to stop everything they're doing and stare during her first season of cruising. Did that 11-metre RIB really just emerge from a 33-metre yacht? And how come she now has a swimming pool on her aft deck that wasn't there a few minutes ago?
Shaking up the market
It wasn't the hot summer blurring their vision… Lady Fleur really does have a tender dock that doubles as a pool, the first of many extraordinary requests made by her owners to Robbert Holterman who runs the family shipyard that bears his name. A well-established player in the higher end of the market for classic Dutch motoryachts up to 60 feet, Holterman Yachts has no external shareholders and its solid financial foundation allowed the yard to take on Lady Fleur, shaking up the market in spectacular style.
"The owners have lots of experience with fast boats and wanted to switch to an extremely comfortable and relaxed yacht that would be ideal for three generations of their family," Holterman explains. "Their philosophy revolved around three key issues: enhanced safety (hence the high bulwarks), hassle-free enjoyment of time spent onboard (hence the emphasis on redundancy throughout) and a radical design that would make the most of the spaces they actually use. The latter demand and its implications for the aft section of the boat led us on a journey that has basically ripped up the rule book for boats this size."
Generation games
Having previously had a chase boat to complement their mother-yacht, the owners now wanted to carry onboard a 11-metre RIB that would take them to onshore destinations and shallow bays at speed as well as facilitate their adult children's love of water skiing and wakeboarding. At the same time, they wanted the aft deck where such a tender would have to be docked to also contain a swimming pool for the grandchildren. And room still had to be found for the jet skis and other watersports toys.
That's a lot of seemingly contradictory wishes that needed to be fulfilled in a relatively small amount of space on a 105-foot vessel. The solution to this conundrum is truly unique, as Holterman explains. "The fore and amidships section of Lady Fleur is a conventional monohull yacht with accommodations, lounge and crew cabins, ending aft with a full-beam garage for the two jet-skis and other toys that are launched by side hatches. The aft section is built in a catamaran style with two mini-hulls welded to the aft bulkhead for the engines plus two other technical compartments, one containing two watermakers and air-conditioning units, the other housing almost all the electrical equipment.
"The two engine rooms are separated by a construction that lowers down and can be submerged 2.5 metres to create a draught of one metre below water. This allows the tender to be easily wet-launched or retrieved, with complete comfort for those alighting or disembarking. Within that platform we have created a movable floor which picks up seawater to create a five-metre long pool that ranges from 30 to 150 cm in depth. This is a totally custom-developed system by a team of experts from across the design and engineering spectrum."
Great leap forwards
A key member of that team was Diana Yacht Design, led by creative director and naval architect Hans-Maarten Bais. "This project has been a major leap for everyone involved. The aft section drove the whole design of Lady Fleur and we basically had to provide naval architecture for two boats in one. Catamarans normally have a rod in-between the 'floaters' to ensure they stay in line but that wasn't possible here, despite the fact that they contain the weight of engines, shafts, generators and the like. We conducted a wide array of finite element calculations and modelling to ensure that the aft does not over-deflect or vibrate when the propulsion is running.
"There is no precedent for a yacht like this so our search for comparable examples drew a blank. For instance, we had to work out how to safely move a pool up and down which contains some 14 tonnes of seawater. The original project was to use hydraulic ramps but these were hard to keep fully vertical and stop sloshing. After weeks of animations and tests we went back to the drawing board and ultimately settled on the use of rotor arms which move the pool in a gently swaying motion. It's a tribute to everyone involved that everything anticipated by the in-depth studies has been materialised in practice."
Meticulous planning
Another important player in translating research into reality was Holterman Yachts project manager Tim Wedzinga. "It was a huge undertaking to engineer this bespoke aft deck with hydrodynamic experts and a dedicated team of mechanics. However, perhaps the greatest challenge we faced was to adapt our facilities in order to build a yacht of this size and sophistication. It entailed an ambitious rearrangement of the yard, bringing in all the right tools and infrastructure.
"We already had a great team of people which was further supplemented by keen craftsmen from across the disciplines who were totally committed to making this extraordinary project come to light. The owner was also very involved, visiting us almost every week and getting to know personally everyone who worked on creating Lady Fleur."
Extending the range
We should pause for a moment here and reflect on the remarkable fact that you can set aside this complex catamaran construction and still have an amazing X-treme yacht in terms of the wide array of technologies, smart ideas and design we are about to explore. That is why Holterman Yachts has already started building smaller models that dispense with the aft section, place an easily accessible engine room in the position of the toy garage on the 105 and then enjoy all the rest of the assets that make this X-treme line so special. The yard is currently busy with two 78 footers (one Fly, the other a Sport), a 60 footer and two 54s, each of which will share the same quality, look & feel of the flagship Lady Fleur.
The striking exterior profile is by Bernd Weel Design and features sculpted lines and faceted surfaces and edges inspired by the automobile world. The highly attractive modern looks are accentuated by the use of large slabs of darkened glass, with the raised pilothouse being entirely encased.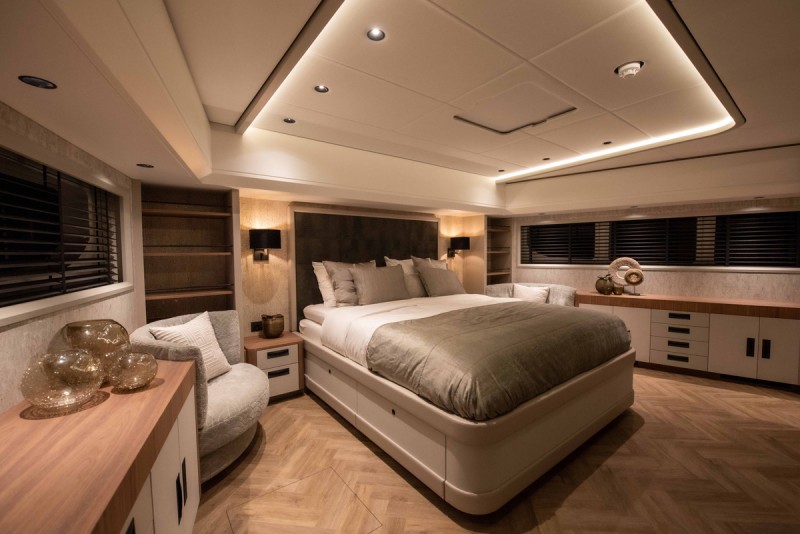 Outdoor elegance
The outside spaces on Lady Fleur are equally impressive with a single flush aft deck of more than 11 metres once the pool is raised being a great place for parties. A large awning increases the options for different times of the day and the expansive sun deck also has a bimini stretching all the way from the elegant second helm, where three captain's seats mean the owner need never drive alone when at the wheel. The sun deck includes an eight-seater dining table, a bar, lots of casual seating, a large jacuzzi and additional sunbathing space furthest aft.
Light and airy
The liberal use of glass in the exterior profile ensures that Lady Fleur's interior is bathed in natural light. Sliding open the aft deck doors accentuates the airy ambience of this beach house on the water, with all the volume of an eight-metre beam making Lady Fleur feel more like a 40-metre boat when inside. Her understated contemporary interior comes from the boards of Trimm Design and is attractively finished in American walnut with lots of leather on the bar and galley, stone accents inspired by the natural world and fabric ceilings. Discreet lighting and warm tones give Lady Fleur the warm and homely feel that the owners desired.
Social hub
Enter the generous main deck lounge and you instantly see differences from a traditional yacht around the 100-foot mark. The galley is found immediately starboard of the entrance, with excellent access to the aft deck dining table. This placement reflects the way people live today both at sea and on land where kitchens and their islands have become a social hub.
An adjacent circular seating area allows guests sitting indoors to chat while the cooking is underway or just have a light meal. Opposite is another sofa which serves the same purpose or can be used when watching the pop-TV next to the galley. The day head is accessible via the lounge or the outside deck in another fine example of experience-driven design. A central staircase in the lounge leads up to the mid-level helm station in the raised pilothouse.
Optimised volume and redundancy
The owner's stateroom is nicely located forward on the main deck while the lower deck is home to four well-proportioned guest suites, each with its own bathroom. The crew accommodation is of a high standard and, because the owners are very hands-on, Lady Fleur only needs room for a crew of four in a captain's and two-bunk cabin. Future clients could add two additional berths, one of many options available to personally optimise the 198 gross tonnes of interior space on the X-treme 105.
Comfort for all who step aboard is assured by the insistence of the owners on a next-level degree of redundancy. Lady Fleur comes with two of everything that could possibly break down and interrupt the fun, from bowthrusters and sternthrusters to battery chargers and inverters. Guests are also always assured of sufficient power without wasting energy: there is no unnecessary starting up of the second generator during moments of peak hotel load as both generators feed power to a lithium polymer battery bank that always has enough to cope with the various onboard demands    
Power and efficiency
Similar outside-the-box thinking led to the choice of propulsion too. Twin Volvo Penta 750 hp engines allow Lady Fleur to comfortably cruise at 10 knots and reach a top speed of 15 knots. Tweaked for use in a superyachting environment, these engines feature in many commercial vessels and are so reliable they come with a warranty of 15,000 running hours.
This first X-treme 105 also showcases a rotatable steering nozzle around the propeller, increasing efficiency by directing thrust in a controlled way. As the nozzle rotates so too does the thrust, dispensing with the need for a rudder. The propeller has therefore been moved aftwards, which in turn allows for a more-horizontal shaft angle and a further boost to efficiency. This pioneering solution also works equally as well in action as all the technical calculations predicted.
The same goes for the four-fin stabilisation solution, the engineering for which was developed in partnership with CMC Marine to meet the owners' specific comfort requirements. Waveless STAB stabilisers have been combined with CMC Marine's propriety ARGO software solution to integrate the controls of the steering with the stabilisers and further enhance directional stability. Any risk of broaching is significantly reduced while Lady Fleur maintains an exceptional higher course directionality.
Rising to the challenge
The unique nature of this yacht has already generated an incredible response from the public since Lady Fleur started sailing around the Mediterranean. "There really is nothing like the X-treme 105 on the market today," concludes Robbert Holterman. "The owners of Lady Fleur challenged us to build such a boat. I knew we had all the necessary skills in-house, ranging from interior specialists and electricians to an expert paint team. I knew we had the space and the ambition. But it was still a big step which I am delighted we took."
If you are looking for something that truly stands out from the crowd, the X-treme 105 has a style and function all of her own. The build time is two years.